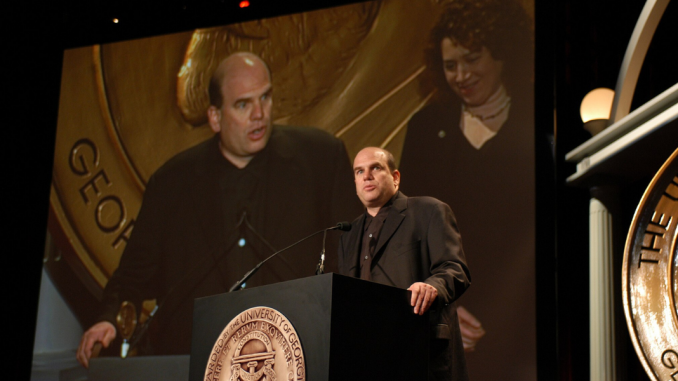 Hollywood and Big Tech both have a heavy left-wing bias.
But that does not mean they are in lockstep on every issue.
And now, this acclaimed Hollywood screenwriter just sounded the alarm on one disturbing emerging technology.
Hollywood screenwriters are currently on strike.
The Writers Guild of America (WGA) is locked in a battle with studios over compensation, and other messy issues.
However, one serious issue that came about during negotiations was the use of artificial intelligence (AI).
Guild members raised concerns over studios potentially using AI to replace writers for brainstorming, outlining, and even script writing.
And acclaimed writer and producer David Simon, creator of the hit HBO series The Wire, said he wants no part of robots writing stories.
Simon sat for an interview with NPR, and host Ari Shapiro was baffled that Simon was not enthused about AI.
"Okay, so you've spent your career creating television without AI, and I could imagine today you thinking, 'boy, I wish I had had that tool to solve those thorny problems —" Shapiro said.
"What?" Simon replied. "You imagine that? … I don't think AI can remotely challenge what writers do at a fundamentally creative level."
"But if you're trying to transition from scene five to scene six, and you're stuck with that transition, you could imagine plugging that portion of the script into an AI and say, give me ten ideas for how to transition this," Shapiro suggested.
"I'd rather put a gun in my mouth," Simon said bluntly.
"You would rather put a gun in your mouth?" a puzzled Shapiro asked.
After bickering back and forth, Shapiro said, "That seems like a kind of absolutist take."
"Not only I think is it a fundamental violation of the integrity of writers and also of copyright to – you know, when I sold all the scripts I sold, you know, 150 to HBO and, you know, maybe another 50 to NBC, I didn't sell them so that they could be thrown into a computer with other people's and be used again by a corporation," Simon added.
"So would you ever agree to a contract that saw any role for AI at all?" Shapiro questioned.
"No, I would not," Simon shot back. "If that's where this industry is going, it's going to infantilize itself. We're all going to be watching stuff we've watched before, only worse."
"Do you think that position is where this is likely to end up?" Shapiro queried.
"I mean, if a writer wants to play around with AI as the writer and see if it helps him, I mean, I regard it as no different than him having a thesaurus or a dictionary on his desk or a book of quotable quotes," Simon responded. "Play around with it. If it starts to lead the way in the sense that a studio exec comes to you and says, 'AI gave us this story that we want,' that's not why I got into storytelling. And it's not where I'll stay if that's what storytelling is."
Simon's concerns over AI have been echoed by others, including those in the tech world.
Elon Musk said that AI was a bigger threat than nukes "by far."
Stay tuned to Conservative Underground News for any updates to this ongoing story.