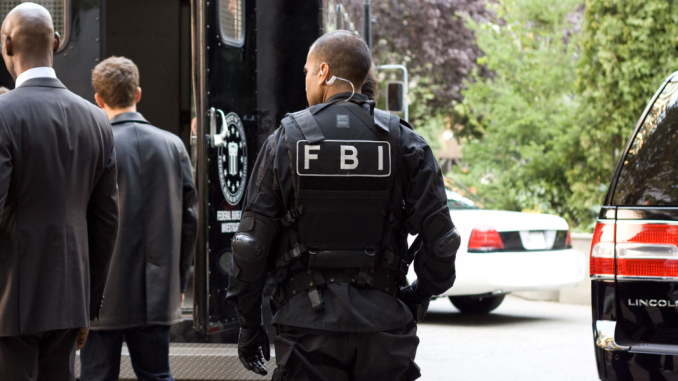 Attorney General Merrick Garland is completely out-of-control.
He doesn't want the public to know how far his weaponization of the Justice Department has gone.
And Merrick Garland landed himself in hot water after he was caught in this major cover up.
Dozens of whistleblowers have come forward about the alarming weaponization of the FBI.
Former FBI Special Agent Stephen Friend blew the lid off the bureau's single-minded pursuit of January 6 cases at the expense of actual crimes.
Friend revealed that the FBI was ignoring child exploitation cases to prioritize the highly politicized January 6 investigations.
The FBI violated the Constitutional rights of January 6 suspects, and inflated the threat of domestic terrorism to target conservatives, according to Friend.
These bone-chilling violations by the FBI caused Friend to blow the whistle on the bureau.
Friend said he was forced to sign a nondisclosure agreement that didn't include the whistleblower protections that are mandated by federal law.
According to federal law, government agencies cannot use taxpayer money for nondisclosure agreements that do not include whistleblower protections.
This is a common-sense measure to protect government employees who expose wrongdoing, while encouraging accountability.
Senators Ron Johnson (R-WI) and Chuck Grassley (R-IA) are demanding answers from the Biden Justice Department about Friend's revelation about a lack of whistleblower protections.
"These accountability measures are critically important because they ensure whistleblowers know they have the right to disclose government fraud, waste, and abuse to Congress and Inspectors General," the Senators wrote in a letter to Attorney General Merrick Garland and FBI Director Christopher Wray. "Federal agencies cannot conceal their wrongdoing behind illegal nondisclosure agreements and related documents."
The Senators are asking for information about the FBI's alleged denial of Friend's federally mandated whistleblower protections, and how many other FBI agents were forced to sign nondisclosure agreements that didn't include such protections.
A letter was also sent by the pair of Republican Senators to Justice Department Inspector General Michael Horowitz to let him know about "additional acts of apparent wrongdoing by the FBI," and to ask him to open up an investigation into the FBI's "retaliation" against Friend.
Government watchdog group Empower Oversight President Tristan Leavitt said that the FBI needed to be held accountable after the latest black eye for the embattled bureau.
"The FBI is not above the law, and Congress needs to hold it accountable," Leavitt explained. "Congress cannot allow agencies to thumb its nose at its power of the purse. Those who blow the whistle deserve to be protected, not punished and silenced."
An increasing number of FBI agents are coming forward as whistleblowers, and Friend could be the tip of the iceberg.
Along with Senators Grassley and Johnson, Rep. Jim Jordan (R-OH) has worked with scores of FBI whistleblowers who have come forward to expose wrongdoing in the bureau.
FBI agents are revealing a growing number of disturbing instances of weaponization and politicization in the bureau.
Merrick Garland is trying to keep honest FBI agents from exposing wrongdoing in the rogue bureau.
Stay tuned to Conservative Underground News for any updates to this ongoing story.