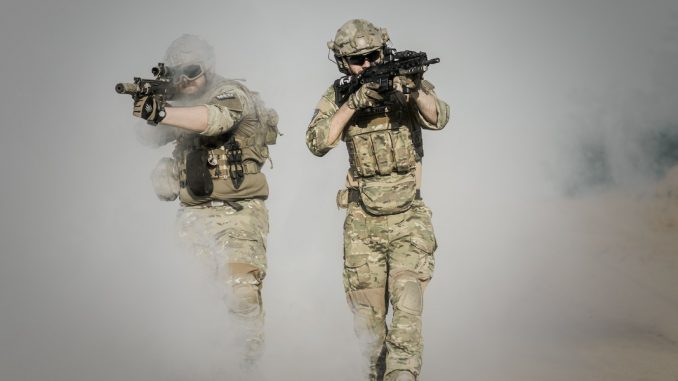 Joe Biden and Democrats are injecting wokeness into every nook and cranny of the government.
It's putting the country in grave danger.
And Joe Biden turned red with rage after Ron DeSantis demolished this woke scheme.
The U.S. military has lost its way under the disastrous leadership of President Joe Biden.
Wokeness is being forced on the military as part of his diversity, equity, and inclusion (DEI) agenda.
Radical gender ideologies, Critical Race Theory, and other divisive concepts based on both faux science and revisionist history, are becoming a party of military training.
Unsurprisingly, prioritizing wokeness has created massive shortfalls in recruiting across the armed forces.
The Navy turned to Yeoman Second Class Joshua Kelley who performs as a drag queen named "Harpy Daniels" to serve as a digital ambassador to aid recruiting efforts.
Kelley is using his drag queen persona to appeal to potential recruits on social media platforms.
The Navy said this was part of an effort to connect to Gen-Z "interests and concerns."
The military is also drastically lowering its standards for recruiting in a bid to boost numbers from the Biden-induced shortfall.
Recruits who fail a drug test for marijuana are now allowed to take a second test, and those who are HIV positive are allowed to enter the officer corps and serve overseas.
Florida Governor Ron DeSantis served in the Navy Judge Advocate General's Corps in Iraq and at Guantanamo Bay.
He said that the military has "lost its way" under President Biden by turning to a drag queen to boost recruiting numbers during a recent event in New Hampshire.
"When I see them focusing on things like drag queens for recruiting, you're like, this really has lost its way, and is it any wonder that recruiting is in the toilet, right now?" DeSantis asked.
The military traditionally relied on patriotism and a sense of duty in recruiting, but those values are being put on the backburner under Biden.
"So, I think that you need to restore a sense of mission and it's all about being able to fight and win wars, and when you have that sense of mission and nothing's going to detract you from it, man, morale goes through the roof, because people feel like they're part of something that matters," DeSantis added.
Governor DeSantis pointed out that recruiting for the military wasn't an issue when he entered the Navy during the Global War on Terror in Iraq and Afghanistan.
"It wasn't a cup of tea, it wasn't fun, and yet people still wanted to join," DeSantis said. "I think it's because they understood you know where, in the cloth of your country and stepping up, even in conflicts that weren't going well, that that mattered."
Wokeness is becoming a national security threat as the military lowers its standards and misses its recruiting goals.
Stay tuned to Conservative Underground News for any updates to this ongoing story.