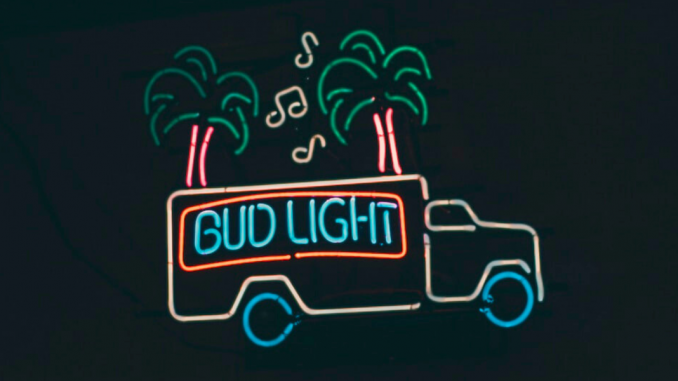 Bud Light was hoping to see a light at the end of the tunnel.
The backlash against the beer brand for its embrace of woke extremism isn't going away.
And a former Anheuser-Busch executive made this stunning prediction about the future of Bud Light.
Anheuser-Busch, Bud Light's Belgian parent company, was hoping that the working class boycott against the beer brand over its partnership with transgender influencer Dylan Mulvaney was going to blow over.
For the fifth week in a row, Bud Light's sales are plummeting, and it shows no sign of rebounding anytime soon.
Bud Light has resorted to desperate marketing gimmicks to try and lure back its core customer base.
Anheuser-Busch rolled out limited edition aluminum bottles featuring camouflage labeling and a picture from the veterans' charity Flags of Honor.
A move squarely aimed at appealing to more conservative consumers.
A former Anheuser-Busch executive predicted that Bud Light would continue to deal with the backlash against the beer brand until they put their core customers over woke politics.
Anson Frericks, the former President of sales and distribution for Anheuser-Busch, spent a decade at the beer giant as an executive.
He told The Daily Wire in an interview that Anheuser-Busch was facing a "a long, hot, dry summer" after the woke controversy.
Frericks said that culture changed drastically during his time at the company from prioritizing profits to focusing on wokeness.
"It was a very merit-based culture," Frericks said. "If you take a look at the 10 principles when I first joined, they said: 'This is a meritocracy, we recruit people better than ourselves.' If you take a look at their 10 principles now, they say: 'We're judged by the diversity of our teams.'"
Anheuser-Busch now lists building workforce diversity as one of its 10 core principles.
Frericks pointed out that Anheuser-Busch is swept up in the environmental, social, and corporate governance (ESG) movement that's taken over corporations.
He said that the company touts its commitment to diversity and inclusion, as well as other woke policies, in its corporate reports that ultimately get in the way of actually turning a profit.
Frericks said that Bud Light was going to continue to lose sales over the next year unless they change course.
"I think that you're going to see sales continue to be down because customers, it's too easy for them to switch to other brands, and they're seeing the impact of their results," Frericks said. "If they want those customers back, they have an easy decision that they can make, which is saying, 'We want Bud Light customers back, therefore Bud Light is not going to get involved with political issues moving forward.' If not, they're probably going to be in a worse position next year and their sales will continue to decline."
So far, Bud Light has shown no signs of apologizing to its core customers or distancing itself from woke politics.
Anheuser-Busch's CEO has only offered a mealy-mouthed statement trying to please everyone.
Bud Light is facing the possibility of a prolonged boycott and massive damage to its brand for refusing to renounce wokeness.
Stay tuned to Conservative Underground News for any updates to this ongoing story.