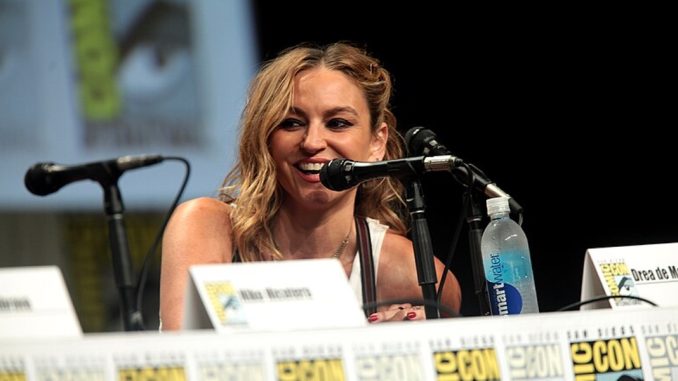 The effects of the pandemic are still being felt by many working-class Americans.
That includes some who may come as a surprise like this "Sopranos" actress whose opposition to COVID tyranny nearly cost her everything.
Because now she's been forced to make one shocking career change to get by.
Like many who make their living in Hollywood, actress Drea de Matteo, who is best known for playing Adriana on the legendary HBO series The "Sopranos," nearly lost her entire career after she objected to being forced to take the COVID vaccine.
Now, in order to pay her bills, de Matteo has made the shocking decision to announce that she is joining the wild world of OnlyFans to sell provocative photos of herself.
"I know some people have said some nasty things about me having joined OnlyFans," de Matteo said of her decision. "But, you know, the way we see it in this house is mommy's a warrior, not accepting defeat."
"I figured, 'Okay, so everybody's in their underwear and being sexy on Instagram and I don't do that, but I can do that and get paid for it,'" she added. "I don't know why I didn't think of this sooner."
Contrary to popular belief, the majority of actors in TV and film are not rich – most make a rather average working-class salary over the course of the year, as landing steady work, much less high-paying gigs, is reserved for only the top percentile of actors.
"I'm 51," de Matteo continued. "I didn't know this was going to have to be a change of life, you know, all of a sudden that during a time I'm supposed to be relaxing a little bit, I would have to switch careers and figure new things out because my own industry thinks I'm, you know, a savage."
She was considered a "savage" for not going along with the absurd mandates of the COVID regime.
"I guess you could say I was a bad girl because I did not follow the rules a couple of years ago," De Matteo added. "So I don't want to be at the mercy of mandates or strike or anything like that ever again."
"I used to have a lot of money," she explained. "And then, all of a sudden, I went from being allowed to work to never being allowed to work again. I was never the kind of actor who took jobs just to stay in the business. I literally took jobs to feed my family… So, when people make nasty comments about why I would have done that, my response is, 'Damn straight.' I hope you're never in the f***ing position I'm in. I take care of an entire family and a lot of other people who depend on me."
There are countless stories of people, inside and outside the film industry, who were forced out of work because of the COVID regime.
And with the current economic environment under President Joe Biden, many are being left with little to no options for providing basic food and shelter for their family.
But still, no one has been held accountable for all the damage the big lies of COVID, and the tyrannical reaction to them, inflicted on working-class Americans from all walks of life.
Stay tuned to Conservative Underground News for any updates to this ongoing story.