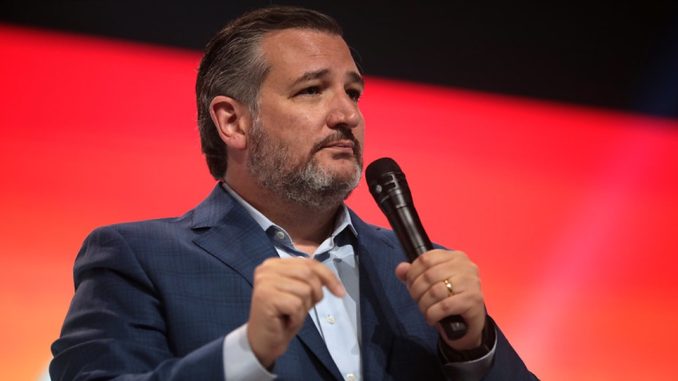 Dr. Anthony Fauci's web of lies is finally being exposed.
He landed himself in hot water after one major announcement.
And Ted Cruz dropped the hammer on Anthony Fauci with this epic takedown.
Dr. Anthony Fauci spent the pandemic lying to the public for his own power and gain.
One of his biggest deceptions was the origin of the COVID virus.
Fauci dismissed the idea that the virus escaped from a lab in Wuhan, China.
He led an effort to brand the lab leak theory as a "conspiracy theory," and went to great lengths to discredit anyone who supported it.
Two recent bombshells from the federal government lent credence to the lab leak theory that Fauci worked so hard to discredit. 
The Department of Energy admitted that the virus most likely leaked from the Wuhan Institute of Virology, according to a classified intelligence report shared with the White House and Members of Congress.
Then, during a Fox News interview, FBI Director Christopher Wray also admitted that COVID "most likely" was unleashed from the Wuhan lab.
Many long suspected that a lab leak was the source of the virus, and now, two major federal agencies are backing up that assessment.
After the news broke, Dr. Anthony Fauci did his best to do damage control.
He claimed that the American people needed to keep an "open mind to all possibilities" while claiming that "we may never know" the true origin of the COVID virus.
"I don't see any data for a lab leak," Fauci told The Boston Globe. "That doesn't mean it couldn't have happened."
Senator Ted Cruz (R-TX) unloaded on Dr. Fauci after his massive coverup was exposed during an appearance on Fox News.
"There is no bureaucrat in the history of our country who has done more damage to the United States than Dr. Anthony Fauci," Cruz said. "Number one, his recommendations resulted in shutdowns that hurt tens of millions of kids, destroyed millions of jobs, millions of small businesses, and his willingness to set aside science, to set aside data, and to be purely political, there has been nothing in our lifetimes that has done more to damage the credibility of government scientists or doctors than Dr. Anthony Fauci."
Anthony Fauci laughably tried to claim that he represented science during the pandemic, but all the while, he was lying through his teeth to the public about the origin of the virus.
He inflicted years of suffering and misery on the country during his political power grab.
Dr. Fauci's repeated lies about COVID's origin are most likely motivated by a desire to prevent the truth about his role in the virus' creation from being exposed.
He used American taxpayer money to fund dangerous gain-of-function research – the process of intentionally making a virus more contagious and deadly in order to supposedly learn how to stop it – at the Wuhan Lab.
The truth is finally coming to light about one of the biggest cover-ups in medical history. 
Stay tuned to Conservative Underground News for any updates to this ongoing story.