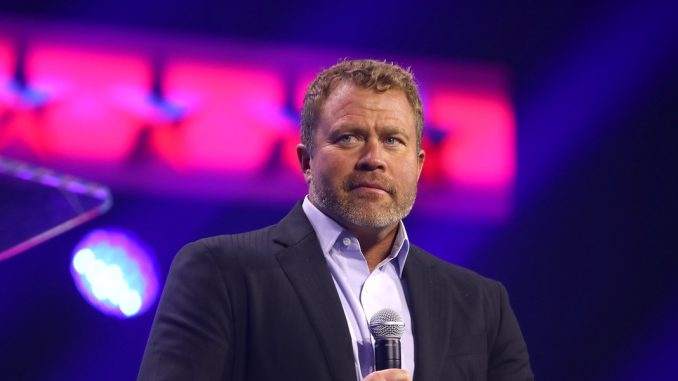 "Sound of Freedom" came out of nowhere to become one of the biggest movies of the year.
The real-life inspiration for the film is on the verge of shaking up the political system.
And "Sound of Freedom's" Tim Ballard caught everyone off guard with this rumor about his future.
"Sound of Freedom" became one of the biggest movie surprises in years when it topped over $200 million at the box office, beating out high-profile Hollywood franchises like Indiana Jones and Mission Impossible.
The movie is based on the true story of former Homeland Security agent Tim Ballard, who left his government job to actually be able to rescue children from sex traffickers in the jungles of Colombia.
After his heroics in Colombia, Ballard dedicated his life to fighting child sex trafficking, founding Operation Underground Railroad, and helping save thousands of children in the process.
He left the anti-human trafficking organization he founded in June, though, raising questions about what was next for the man who inspired the ground-breaking film.
Senator Mitt Romney (R-UT) announced that he wouldn't seek re-election in 2024, much to the delight of freedom-lovers across the country.
The failed 2012 Presidential candidate and carpet-bagging ruling class elitist said it was time for a "new generation of leaders."
Rumors have suggested for some time that Ballard may be considering the possibility of throwing his hat in the ring to replace Romney in the Senate.
"Starting several weeks ago, I've been asked by a lot of very influential people… to throw in," Ballard told former Trump Press Secretary turned Newsmax host Sean Spicer during an interview.
Spicer followed up by asking if he would, in fact, be running for Utah's open Senate seat next year.
"That's the very seat that I was asked to look at weeks ago," Ballard explained. "I was very seriously considering it then, and I'll be honest, now even more so."
Ballard said that he had been considering a Senate run before Senator Romney made everyone's day by announcing that he was stepping down.
"That just took that level of deep thought to… even more," Ballard added.
Currently, the only major candidate to officially announce their candidacy for the 2024 Utah Republican Senate Primary is Riverton Mayor Trent Staggs.
Former President Donald Trump hosted a screening of "Sound of Freedom" at his Bedminster Golf Club, and praised the film as "an incredible inspiration."
Ballard worked with the Trump administration to help fight human trafficking.
He's been a vocal critic of the fact that President Joe Biden's border crisis has exacerbated the child trafficking crisis in America, slamming the Biden regime for losing track of 85,000 children.
A Senate bid would make Ballard the second individual connected to "Sound of Freedom" to parlay the film's success into a run for office — producer Eduardo Verástegui has announced that he will be running for President of his native Mexico, as well.
There's no denying that a voice like his is needed in Congress to help expose and solve issues like the child trafficking crisis now more than ever.
And winning a Senate seat would allow Tim Ballard to do just that, and more.