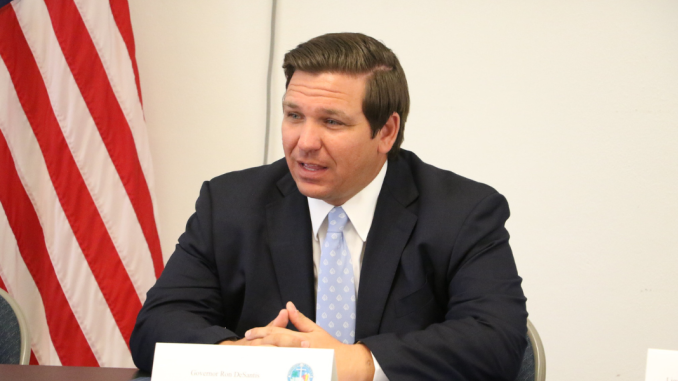 Florida Governor Ron DeSantis is delivering one win after another for working class Americans.
Democrats tried to throw a monkey wrench in one of his major policy changes.
And Ron DeSantis was all smiles after a court handed him this massive victory.
Governor Ron DeSantis and Florida's Republican-led state legislature passed a significant election integrity bill in the aftermath of the 2020 election that became a model for the country.
In 2021, DeSantis signed into law SB90, which made sweeping changes to safeguard elections in the state.
The bill strengthened voter ID requirements, restricted the use of drop boxes, banned mass mailing ballots to voters, outlawed ballot harvesting, and restricted third-parties from registering voters along other changes.
Predictably, Democrats melted down over these common-sense measures to secure Florida's elections.
Left-wing activist groups, including the League of Women Voters of Florida, the Equal Ground Education Fund, and the NAACP, sued the state of Florida over the law, claiming it was discriminatory towards black voters – a majority of which support such measures.
Last year, Obama-appointed U.S. District Judge Mark Walker ruled that Florida had to receive court approval for a decade to enact three changes to the state's election law.
Now, a federal appeals court stepped in and reversed the lower court's decision.
The 11th Circuit Court of Appeals' 2-1 decision admonished the lower court for using "fatally flawed statistical analysis" and "flimsy evidence."
"The district court relied on fatally flawed statistical analyses, out-of-context statements by individual legislators, and legal premises that do not follow our precedents," Chief Judge William Pryor wrote in the court's opinion.
Pryor said the lower court relied on historical evidence of voting discrimination in Florida, but that more recent evidence didn't support their claims.
His opinion scolded the lower court for relying on statistics that showed Democrats used mail in voting more frequently than Republicans to draw their conclusions, while ignoring evidence that shows black voters use such voting methods less frequently than white voters.
"Once again, partisan discrimination must not be conflated with racial discrimination," Pryor wrote.
DeSantis' deputy press secretary Jeremy Redfern said the court's ruling was a "great win for Florida's voters."
Equal Ground founder Jasmine Burney-Clark was left fuming after the court handed her a massive setback.
"We are deeply disappointed and disturbed by today's appeals court decision, upholding a racist attack on our voting rights and rejecting the concerns of Black and Brown Floridians who are disproportionately impacted by SB 90," Burney-Clark claimed. "Let's be clear, Governor DeSantis and the Florida GOP passed this voter suppression law with the intent to silence Black voices and diminish the power of Black voters, who are a threat to their political power."
In response, the left-wing groups filed a new lawsuit that challenged Florida's voter registration form for not informing convicted felons of their requirements to regain their voting rights.
Ron DeSantis won a massive victory to help secure Florida's elections ahead of next year's crucial Presidential election.
Stay tuned to Conservative Underground News for any updates to this ongoing story.