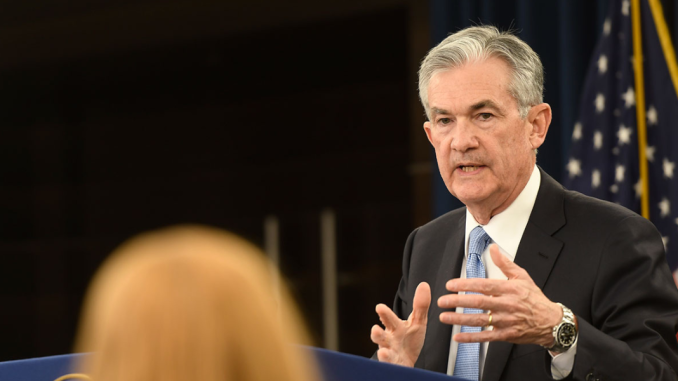 Joe Biden is presiding over an economy that's careening towards a recession.
The Federal Reserve is at the center of the country's economic woes.
And Ron DeSantis put Fed Chair Jerome Powell on notice with these three words.
President Joe Biden unleashed the worst inflation in four decades after he flooded the economy with trillions of dollars in wasteful spending financed by debt.
The Federal Reserve has botched its response to the Biden inflation crisis from the jump.
Federal Reserve Chairman Jerome Powell initially claimed that inflation would only be "transitory" before embarking on a series of interest rate hikes to tame it once it was already out of control.
Powell claimed that the Fed would be able to achieve a "soft landing" in which they raised interest rates to lower inflation without creating a devastating recession.
Most economic forecasters are now predicting a recession later from rising interest rates.
Rising interest rates are now creating the Biden banking crisis after three of the largest four bank failures in American history occurred over the span of the past two months.
Chairman Powell is claiming that everything is okay with the banking sector despite mounting problems with small to mid-sized regional banks.
The economy is on the brink of a meltdown from the Fed's disastrous response to inflation.
Florida Governor Ron DeSantis took off the gloves in a new video on social media, telling Powell to "take a hike," and linking him to President Biden.
Biden has stuck by Powell despite the economy continuing to deteriorate under his watch.
"Economy ain't work for ya?" the video's narrator said. "You're probably mad at this guy (Biden). But Biden's got a recession sidekick. A guy by the name of Jerome Powell. Biden loves Jerome and he lets him do whatever he wants."
The video played a clip of President Biden lavishing Powell with praise after he re-nominated him as Chairman of the Federal Reserve.
"And Jerome loves hiking those interest rates," the narrator continued. "And that means you lose money."
The video then shows a newscaster talking about turmoil in the financial markets caused by the Fed's continued interest rate hikes, followed by Governor DeSantis ripping the Fed.
"You know, I think the Fed has done a horrible job over these last few years and they really are creating potential significant turmoil in the economy," DeSantis said.
"Get the economy back on track, tell Powell to take a hike," the narration concluded.
👀📺 NEW VIDEO 📺👀

Economy ain't workin for ya?

Tell Biden's recession sidekick to take a hike. pic.twitter.com/nE11XsTOY6

— DeSantis War Room 🐊 (@DeSantisWarRoom) May 4, 2023
DeSantis is widely expected to announce his Presidential campaign in the coming weeks.
He appears to be ready to put the Biden economy and Powell in his crosshairs.
America's most popular Governor has frequently contrasted Florida's booming economy under his leadership to the terrible national debt created by President Biden.
In recent months, with the economy in turmoil, he's stepped up his attacks against Chairman Powell.
In March, Governor DeSantis said that the Fed Chair "has been a total and complete disaster, and you are paying for it and people all across this country are paying for it."
Ron DeSantis is ready to take the fight to Joe Biden and his lackeys over their disastrous economic decisions.
Stay tuned to Conservative Underground News for any updates to this ongoing story.