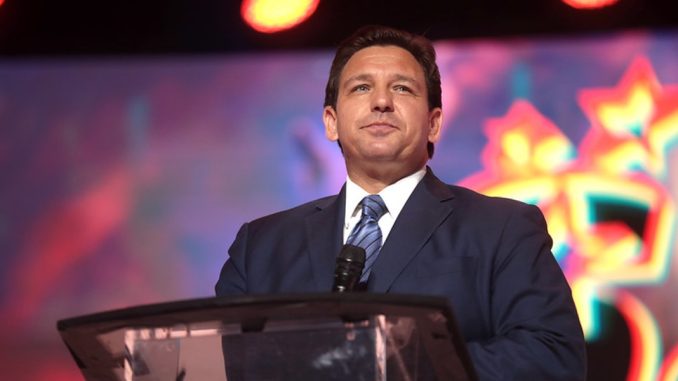 Florida Governor Ron DeSantis has declared war on wokeness.
He's calling out one sinister scheme targeting kids.
And Ron DeSantis gave Joe Biden a brutal reality check over this woke scheme.
During the 2020 campaign, President Joe Biden was portrayed as the "moderate" choice in the Democrat Party.
After occupying the White House, he's embraced the most extreme cultural positions supported by the radical Left.
During an interview with Kal Penn on The Daily Show, President Biden came out swinging at Florida Governor Ron DeSantis for standing up to the radical transgender movement targeting kids.
"What's going on in Florida is, as my mother would say, close to sinful,"  Biden claimed. "It is just terrible what they are doing."
The President came out in support of a federal law preventing states from banning gender-altering surgeries and drugs for kids.
"It's not like a kid wakes up one morning and says, 'You know, I decided I want to become a man or I want to become a woman or I want to change,'" Biden continued. "I mean, what are they thinking about here? They are human beings. They love. They have feelings. They have inclinations that are… it just to me, is, I don't know is, it's cruel."
Florida is stepping up to protect kids after the state's medical board banned the use of hormones, puberty blockers, and gender reassignment surgeries for children under 18.
Governor DeSantis received massive pushback from Democrats and their media allies for his Parental Rights Bill which banned students younger than fourth grade from being targeted by radical gender ideologies.
After Biden lobbed another attack against the Florida Governor, DeSantis fired back on social media.
The DeSantis War Room social media account posted a video of Biden's Daily Show interview side-by-side with a video of the gruesome aftereffects of gender reassignment surgeries accompanying the caption, "Florida banned these surgeries for children."
The disturbing video of the aftermath of the surgeries was marked with a "Graphic Warning" label.
"Biden thinks it's 'cruel' that Florida is NOT allowing experimental sex change operations for kids," the DeSantis War Room account posted above the video.
Governor DeSantis also weighed in on social media, and took dead aim at Biden for his embrace of mutilating kids.
"It is not 'sinful' to prohibit the mutilation of minors," DeSantis wrote. "It is not acceptable for the federal government to mandate that procedures like sex change operations be allowed for kids."
President Biden and the Democrat Party have embraced the extreme position that the kids should receive life altering surgeries and drugs for gender dysphoria.
Many left-wing European countries, like Sweden, have backed off of providing these drugs and surgeries for kids because they have no basis in science.
Ron DeSantis is standing up for common sense and fighting back against the woke insanity targeting kids.
Stay tuned to Conservative Underground News for any updates to this ongoing story.