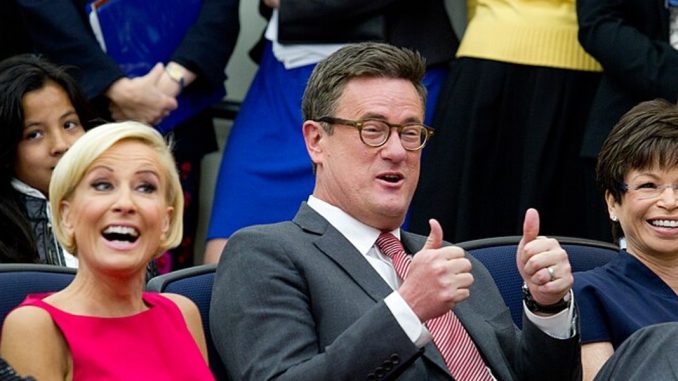 Joe Biden's health has deteriorated to the point where three-fourths of Americans now say he is unfit to serve another term in the White House.
He claims he is fine and Democrat Party officials are trying to put the concerns about his health to bed.
But MSNBC's Joe Scarborough just blew the whistle on Democrat insiders' private admissions about Joe Biden's re-election campaign.
President Joe Biden's mental and physical abilities have been declining for quite some time.
During the 2020 election, Biden's handlers used the pandemic as an excuse to keep him mostly out of the public spotlight while woke extremist activists in the press ran cover for him.
But once Biden assumed office, it became impossible for his handlers and Democrats' media allies to hide his rapidly declining physical and cognitive abilities.
President Biden can no longer appear in public for longer than five minutes without showing severe signs of cognitive and physical decline.
Now that Americans are well aware of Biden's condition, a recent poll showed over three-fourths of voters believe he is not fit to serve another term in the Oval Office.
Of course, the President claims he is fine and is beyond fit to carry out his duties.
Democrat Party leaders are circling the wagon around Biden and trying to turn the conversation back to former President Donald Trump and his allegedly "violent" supporters.
But MSNBC's Joe Scarborough just blew the lid on what Democrat Party leaders are telling him in private about Biden's fitness for office.
"Everybody we talk to, every political discussion, all a lot about Trump, but when it comes to Joe Biden, people say, 'Man, he's too old to run isn't he?" Scarborough said in reference to what he hears from Democrats. "'He's not going to. He's not really going to run.'"
Scarborough said he wasn't exaggerating when he said "every discussion."
"When I say every discussion, I don't mean 99% of the discussion," he said. "Every discussion."
He then said even Al Sharpton admitted to him that every Democrat he talks to also tells him Biden is too old to run again in 2024.
Scarborough then blasted the Democrats as two-faced hypocrites.
"So, you know, we often will complain about Republicans who will say one thing about Donald Trump off the air and another on air," he said. "Well, let me just say, Democrats, off the air, will say 'Joe Biden's too old. Why is he running?'"
However, Scarborough said they were too afraid to ever say it on the air or in a public space.
"On the air, they won't say that," he said.
Scarborough will certainly catch fire from his colleagues in the media, as well as the Biden regime.
But the reality is that he only said what every Democrat says in private but is too afraid to say publicly.
And this is why many still believe Democrats are planning to replace Joe Biden with another candidate in the coming months.
Stay tuned to Conservative Underground News for any updates to this ongoing story.