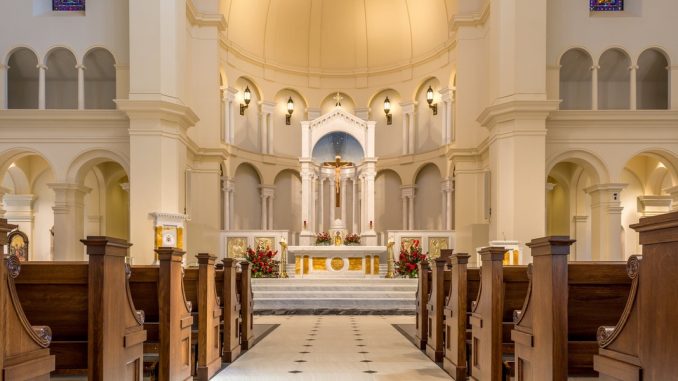 Attorney General Merrick Garland is weaponizing the Justice Department to target conservatives.
He crossed a major red line with one disturbing decision. 
And Merrick Garland waived the white flag of surrender when he made this shocking move.
Attorney General Merrick Garland is the top political hatchet man for President Joe Biden.
The FBI is being used to drop the hammer on Americans opposed to the Biden regime.
A leaked internal memo from the FBI's Richmond field office revealed that the agency was preparing to treat Catholics as "potential terrorists."
Former FBI agent and whistleblower Kyle Seraphin exposed the intelligence memo, which claimed that traditional Catholics who participate in Latin Mass are connected to "white supremacy" and posed a risk of "violence."
It appeared that the memo based this bogus assessment off of propaganda from the radical left-wing Southern Poverty Law Center (SPLC).
The SPLC is a discredited left-wing nonprofit that pretends to be "non-partisan" in order to smear conservatives, painting the target for political harassment.
The memo falsely claimed that traditional Catholics are "anti-Semitic, anti-immigrant, anti-LGBTQ and white supremacist ideology."
The FBI used the bogus information from the SPLC to claim that they had "high confidence" in the alleged threat posed by Catholicism. 
This is a blatant attempt to target a conservative religious community that is opposed to the Biden regime's extreme abortion on-demand agenda.
This religious bigotry from the FBI sparked outrage after the intelligence memo was brought to light.
Feeling the heat, the FBI backed off the memo, claiming it didn't meet the agency's standards.
"Upon learning of the document, FBI Headquarters quickly began taking action to remove the document from FBI systems and conduct a review of the basis for the document," the FBI claimed. "The FBI is committed to sound analytic tradecraft and to investigating and preventing acts of violence and other crimes while upholding the constitutional rights of all Americans and will never conduct investigative activities or open an investigation based solely on First Amendment protected activity."
The FBI only back-peddled after the bone-chilling memo was exposed, and public backlash ensued.
The targeting of traditional Catholics comes on the heels of the Biden Justice Department targeting other pro-life Catholics in the wake of the Supreme Court's decision to overturn Roe v. Wade.
House Republicans are preparing to investigate the Justice Department's politicized targeting of the pro-life community, including Catholics.
This is another black eye for an FBI that's been exposed as the political enforcers for the Biden regime. 
Stay tuned to Conservative Underground News for any updates to this ongoing story.