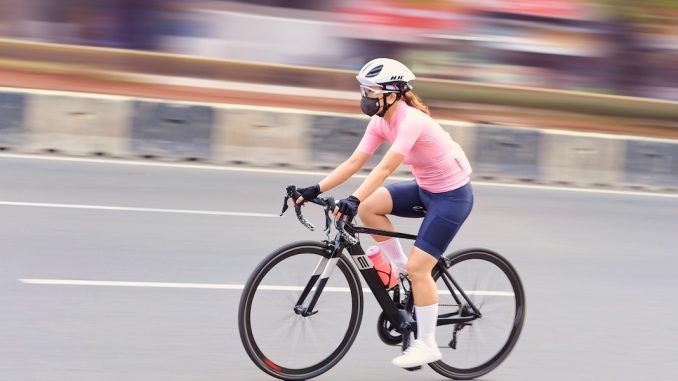 The world of sports has been tarnished by Democrats' obsession with woke extremism.
No longer can Americans simply enjoy a sporting event without being assaulted by propaganda.
And Megyn Kelly made a stunning declaration after another "woman" was crowned a champion.
Democrats will jump on any dubious "civil rights" claim without a moment's thought because they don't want to be accused of being "bigots."
That's why a huge swath of Democrats have gotten on board with biological males competing against biological females in competitive sports.
Biological males who claim to be women are taking away playing time, scholarships, awards, accolades, and championships away from biological women in the name of LGBTQ+ "acceptance."
Radical leftists have obliterated the definition of the word "woman," and this is the consequence.
Recently, a transgender cyclist won a women's competition, but the second and third-place finishers refused to share the podium with the biological male.
Lesley Mumford, a former SWAT Team leader in Colorado, won the 100-mile Desert Gravel Co2Ut competition.
Mumford, 46, beat 43 women in the 40-49 category, and wrote on social media, "I have no idea why so many people bailed before the podiums, but they did… I swear I wasn't the only one in my age group."
Inga Thompson, a three-time Olympian and medalist at the Tour de France, responded on social media, "The silent protests are starting! The women are refusing to stand on the podium with the man! Well done!!!"
The silent protests are starting! The women are refusing to stand on the podium with the man! Well done!!! https://t.co/QazFxeoBLc

— Inga Thompson Fdn OLY💚🤍💜 (@ithompsonfdn) May 16, 2023
Political commentator Megyn Kelly also had some choice words for Mumford.
"There's a story every other day now about a trans person winning a women's cycling event," Kelly said on her podcast. "Women's cycling is all but gone to us — I mean it's worse, I think, than women's swimming."
Women's swimming has become an odd flashpoint in the culture war after the University of Pennsylvania's Lia Thomas – a biological male who was ranked outside the top-400 swimmers in the nation when he competed against men – began competing against women and dominated on his way to be the NCAA's women's swimming national champion.
Kelly added that Mumford was a male "until two minutes ago. Now he says he's Lesley Mumford and has won in the women's [race]… He suddenly decides he's a woman, and goes and steals all their medals. No wonder [female athletes] are quitting."
It is absurd that society has come to this point, but this is how truly insane Democrats have become.
All of their bad ideas are currently on the table.
Stay tuned to Conservative Underground News for any updates to this ongoing story.