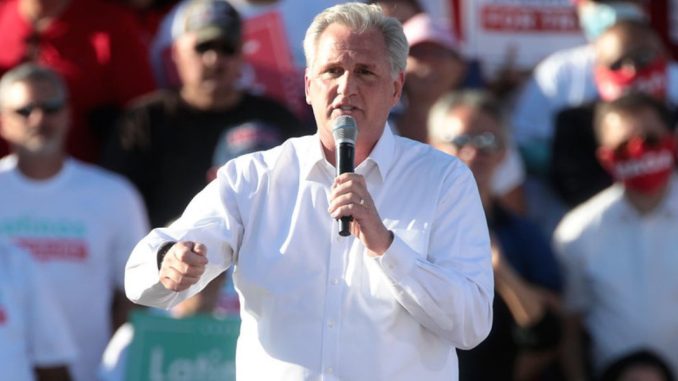 House Speaker Kevin McCarthy is exposing Democrats' January 6 deception. 
That has big implications for Democrats' witch hunt against the supposed "threats to democracy" known as Republican voters. 
And Kevin McCarthy made one promise that sent Nancy Pelosi into a fit of rage.
Democrats' January 6 narrative is beginning to unravel at the seams.
For two years, Democrats refused to release more than 41,000 hours of surveillance footage recorded in and around the Capitol Building on that day.
Former Speaker of the House Nancy Pelosi's (D-CA) January 6 Committee simply cherry picked snippets of footage that gave credence to the "insurrection" narrative they used to launch the witch hunt against former President Donald Trump and his supporters in the first place.
As a result, Speaker of the House Kevin McCarthy (R-CA) sent shockwaves through Washington, D.C. when followed through on his promise to release the previously unseen surveillance footage to Fox News' Tucker Carlson.
After his team of journalists and producers spent multiple weeks combing through the tapes, Carlson began to release the unedited, never-before-seen footage and report on the major discrepancies between what Americans can see with their own two eyes and what Democrats have told them.
One of the biggest revelations made by the Fox News host came with the release footage showing Jacob Chansley, a Trump supporter who was dubbed the "QAnon Shaman" by the legacy media after he was ultimately arrested at the Capitol, being peacefully escorted around the building by police officers.
In multiple videos released by Carlson, Capitol Police officers can even be seen helping Chansley find his way around the building, and into the Senate chamber, while it was under lockdown.
Democrats and the corporate-controlled media made Chansley the public face of January 6, and portrayed him as a violent protester who helped "lead" the so-called "insurrection."
He was sentenced to nearly four years in prison for "obstructing an official proceeding."
But the never-before-seen footage released by Carlson was never made available to him during his trial despite his lawyer specifically requesting it.
Now, Speaker McCarthy is also making all of the surveillance footage available to January 6 defendants. 
Rep. Barry Loudermilk (R-GA), who serves as the Chairman of the House Administration Committee's oversight subpanel, said that McCarthy signed off on the footage being released to defendants on a "case-by-case basis."
"Everyone accused of a crime in this country deserves due process, which includes access to evidence which may be used to prove their guilt or innocence," Loudermilk told Politico. "It is our intention to make available any relevant documents or videos, on a case-by-case basis, as requested by attorneys representing defendants."
Prior to this, January 6 defendants only had access to the limited, selectively edited surveillance footage that federal government prosecutors were willing to turn over.
Video evidence that could potentially be relevant to their defense was withheld – a clear violation of every Americans' Sixth Amendment rights – because the Biden Justice Department and former Speaker of the House Nancy Pelosi (D-CA) kept the footage hidden.
In addition, Speaker McCarthy has said that he intends for all Americans to be able to access all of the January 6 surveillance footage – outside of portions that could compromise Capitol security – in the near future.
"I think putting it all out to the American public, you can see the truth, see exactly what transpired that day and everybody can have the exact same [access]," McCarthy said. "My intention is to release it to everyone."
January 6 defendants can finally start to get a fair shake during the legal process after Nancy Pelosi and the Biden Justice Department spent years hiding evidence.
Stay tuned to Conservative Underground News for any updates to this ongoing story.