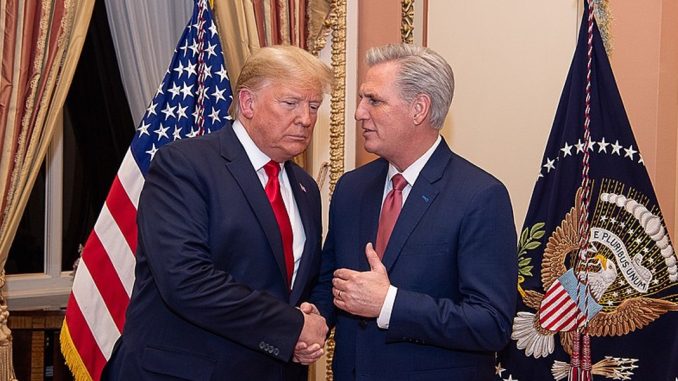 Joe Biden and his family are consumed by the culture of corruption they created.
The media is desperately trying to run cover for him.
And Kevin McCarthy lowered the boom on a reporter after they uttered this absurd lie to protect Joe Biden.
The evidence of President Joe Biden's involvement in his family's corrupt foreign business deals is overwhelming.
House Republicans are preparing to move forward with an impeachment inquiry into the embattled President.
Talking points have been sent out to the media to develop a narrative to protect Biden from the impeachment fallout.
Reporters and pundits have begun to parrot the line "without evidence" to describe the impeachment inquiry.
Speaker of the House Kevin McCarthy (R-CA) demolished an Associated Press reporter for claiming that Republicans were launching the inquiry "without evidence."
During a recent media scrum, McCarthy addressed the claims by explaining that the point of an impeachment inquiry was to unlock additional investigative powers and tools, which then allow Congressional investigators to have a clearer picture of the truth before actually determining whether to actually move forward with an impeachment or not.
But then, the typically rather apathetic House Speaker made a somewhat uncharacteristic move, singling out the AP's Farnoush Amiri for advancing the Democrat lie that Republicans are moving forward with the inquiry "without evidence."
"Are you concerned about all this stuff that was just recently learned?" McCarthy asked Amiri. "Do you have any concerns? Have you asked the White House any questions?"
"Yes," Amiri replied.
"Do you agree that — do you believe the President lied to the American public when he said he'd never talked to his son about business dealings?" McCarthy replied. "Yes or no? It's alright."
As every self-proclaimed "journalist" does the moment the tables are turned on them, Amiri claimed that she couldn't answer that question.
Since President Biden began his run for President, of course, he has repeatedly told the American people that he never once discussed his son's foreign business dealings with him.
But after Hunter's former business associate and best friend, Devon Archer, testified that the President was on more than 20 phone calls with his son and his foreign business partners, the Biden regime simply changed their story and argued that Biden was never actually in business with his son — essentially throwing the President's son under the bus.
"You can't answer that," McCarthy exclaimed. "Do you believe when they said the President went on conference calls? Do you believe that happened?"
"That's what the testimony says, yeah," Amiri said, referring to Archer's testimony.
Speaker McCarthy pointed to some of the disturbing revelations about President Biden's involvement in Hunter's business deals to put Amiri on the spot.
"Do you believe the President went to Cafe Milano and had dinner with the clients of Hunter Biden, who believes he got those clients because he was selling the brand?" McCarthy asked. "Do you believe that $3 million from the Russian oligarch that was transferred to the shell companies that the Biden's controlled after the dinner from Cafe Milano took place?"
Amiri admitted that it came from testimony before Congress.
So McCarthy asked Amiri once again whether or not the President lied, but as expected, she again ducked the question by asking what an impeachable offense would be.
Amiri was backpedaling when she was forced to confront the evidence she claimed didn't exist.
The media is going to have to work overtime to spin the growing evidence of Joe Biden's corruption.