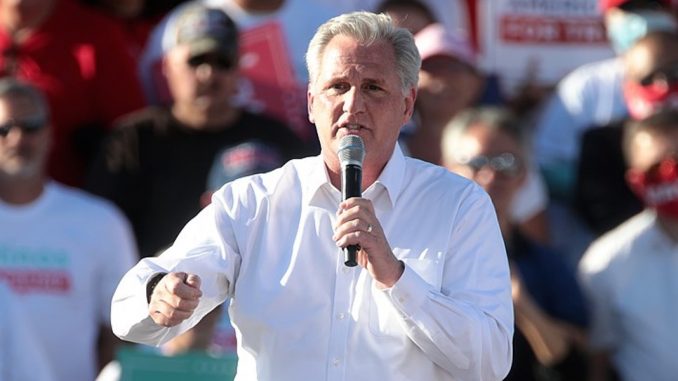 Congressional investigations into Joe Biden and his family are piling up with no end in sight.
A botched response to a tragedy could land him in the middle of another one.
And Kevin McCarthy dropped one big hint that left Joe Biden cowering in fear.
The wildfires that ravaged the Hawaiian island of Maui created one of the deadliest natural disasters to hit the country this century.
So far, 115 people have been ruled dead during the tragedy, and over 1,000 people are still missing, many of them children who were walking home from school.
The situation was made worse because of government failures at every level.
President Joe Biden has shown no empathy to the survivors of the wildfires.
He told reporters "no comment" during a beach vacation in Delaware after he was asked about the growing death toll.
Instead of traveling to Maui, Biden decided to take another vacation at Democrat megadonor Tom Steyer's Lake Tahoe home.
He eventually got around to traveling to the devastated island where he proceeded to shock the weary residents of Lahaina, which was almost completely destroyed.
Biden tried to compare the wildfire to a time when a small kitchen fire broke out at his home.
"I don't want to compare difficulties, but we have a little sense, Jill and I, of what it was like to lose a home," Biden told stunned residents. "Years ago now, 15 years, lightning struck at home on a little lake outside the home, not a lake, a big pond. It hit the wire and came up underneath our home. To make a long story short, I almost lost my wife, my '67 Corvette and my cat."
The kitchen fire was quickly put out without any serious damage, according to reports.
The tone-deaf response to the tragedy from Biden is opening the door to another Congressional investigation into his regime's response.
Kevin McCarthy slams Biden, says investigation is on the table
Speaker of the House Kevin McCarthy (R-CA) slammed the Biden regime's response to the Maui wildfires while he was touring a 5G manufacturing facility in Syracuse, New York.
"We've got disasters going off in this country," McCarthy said. "We saw the devastation that has happened in Maui, the need to go there but I'm very concerned about the response."
Over 1,000 people are still missing weeks after the wildfire struck the island.
"We still have hundreds of individuals that are missing," McCarthy added. "I think there's gonna have to be a congressional investigation in response of what happened. How could we lose that many Americans in today's age? "
Local officials on Maui failed to sound the civil defense siren as the blaze headed toward Lahaina, and police blocked the only road out of town.
Residents have criticized the lack of coordination between federal and state government disaster relief agencies that has left them wondering who's in charge.
"And the federal response seems very delayed," McCarthy said. "The president's response to have no comment? That's unacceptable. So I'm going to work with committees too to look at investigating what went on so that never happens again as well."
Joe Biden will have to answer for the government's failed response to the tragedy in Maui.
Stay tuned to Conservative Underground News for any updates to this ongoing story.