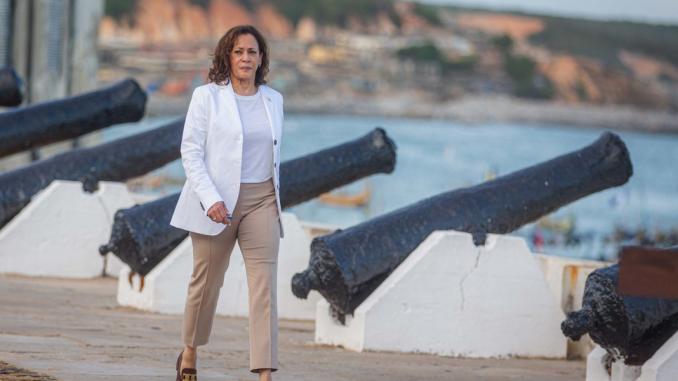 Kamala Harris is a complete and utter disaster as a politician.
Her big mouth got her in trouble yet again.
And Kamala Harris was fuming after this attack on Donald Trump came back to bite her.
President Joe Biden is sending 1,500 soldiers to the southern border ahead of the expiration of Title 42.
Title 42 is the pandemic era policy activated by former President Donald Trump to allow federal authorities to quickly expel illegal aliens to protect the American people from the COVID virus.
A surge of illegal aliens is expected at the border once the policy expires, and the military is deploying to the area to help with administrative tasks.
Vice President Kamala Harris is supposed to be in charge of securing the border as Biden's Border Czar – although, she's repeatedly claimed, "the border is secure."
She was put in an awkward situation regarding President Biden's decision to deploy troops to the border after a past comment came back to haunt her.
During a 2018 interview, then-Senator Harris told reporters that former President Donald Trump's decision to send troops to the border was "political" and "inappropriate."
"The administration made a decision to deploy [troops] based on a political agenda, and I believe that it is inappropriate to require the limited resources of the United States military to be used in such a way when these folks who are being deployed there, they've left their families," Harris said at the time.
She called Trump's decision "some demonstration for the TV cameras based on a political agenda instead of what is a national security threat."
Harris also joined Senator Bernie Sanders (I-VT) and other Democrats in penning a letter to Trump Secretary of Defense James Mattis, claiming they were "deeply disturbed by the overt politicization of the military."
"The politically motivated mission misuses active-duty service members and wastes Department of Defense resources, both of which could compromise military readiness in the face of a true national security threat and heighten the risk of a confrontation between asylum-seekers and armed service members," the left-wing radicals' letter stated.
Vice President Harris hasn't commented on Biden's decision to send troops to the southern border despite being the regime's Border Czar.
She was exposed as a total hypocrite who's more interested in using the border as a political weapon than actually doing one of the few jobs assigned to her.
The President's deployment of troops to the border also proves Harris' oft-repeated claim that "the border is secure," is verifiably false.
She and other Biden regime officials are living in denial about the border crisis their open border policies created as it quickly spirals out-of-control.
White House Press Secretary Karine Jean-Pierre laughably claimed that "illegal migration" has "come down by more than 90%" during a recent press briefing.
Kamala Harris was outspoken about the border when Donald Trump was in charge, but she's nowhere to be found when it's her responsibility.
Stay tuned to Conservative Underground News for any updates to this ongoing story.