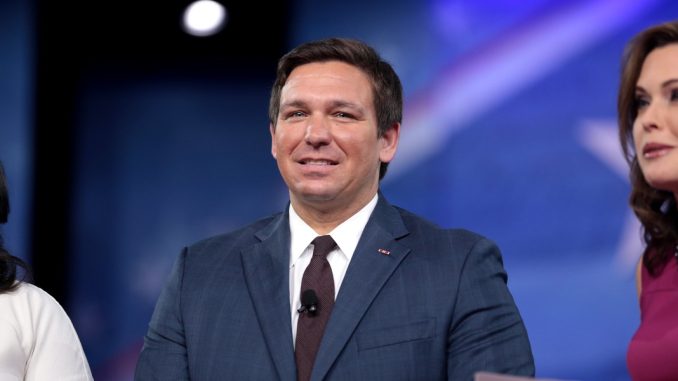 Joe Biden is trying to ignore the law to carry out his radical agenda.
He got a reality check about one illegal scheme.
And Joe Biden was fuming after a judge handed Ron DeSantis this major victory.
America's borders are wide-open after President Joe Biden dismantled any semblance of border security.
He reversed one of former President Donald Trump's most successful border security policies, and reinstated "catch and release" for illegal aliens.
"Catch and release" allows illegal aliens apprehended at the border to be freely released into the United States so long as they "promise" to appear in front of an immigration court at a later date – you can probably guess how often that promise is fulfilled.
Florida Attorney General Ashley Moody, a top ally of Governor Ron DeSantis, filed a lawsuit in federal court challenging the Biden regime's reinstatement of "catch and release."
Federal Judge T. Kent Wetherell II of the U.S. District Court for the Northern District of Florida ultimately issued a ruling blocking the use of "catch and release" by the Department of Homeland Security.
The Trump-appointed judge gave the Biden regime a brutal rejection, pointing out that the U.S.-Mexico border has become "a meaningless line in the sand" for illegal aliens entering the country.
In his ruling, he slammed President Biden for his role in creating the Biden border crisis.
"Collectively, these actions were akin to posting a flashing 'Come In, We're Open' sign on the southern border," Judge Wetherell II wrote in his ruling. "The unprecedented 'surge' of aliens that started arriving at the Southwest Border almost immediately after President Biden took office and that has continued unabated over the past two years was a predictable consequence of these actions."
He gave the Biden regime a timeline of one week to appeal the ruling.
The judge pointed to testimony from the head of the Border Patrol, who said that "catch and release" went from being rarely used under President Trump to becoming the default policy of the Biden regime.
That decision meant that the Biden regime "effectively turned the Southwest Border into a meaningless line in the sand and little more than a speed bump for aliens flooding into the country…"
The Biden Department of Homeland Security has released hundreds of thousands of illegal aliens without even giving them a future date to appear in immigration court.
Attorney General Moody celebrated the victory for law-and-order during an appearance on Fox News.
"This is not just a win for Florida," Moody said. "This is a win for our country to have a judge come in and say what we have been saying all along. In fact, calling the White House out when they said there wasn't a crisis, or nothing was going on."
The Biden regime is hellbent on ignoring America's immigration laws to advance Democrats' open borders agenda.
Now, Joe Biden is being forced to follow the law and end his jailbreak scheme to flood the country with illegals.
Stay tuned to Conservative Underground News for any updates to this ongoing story.