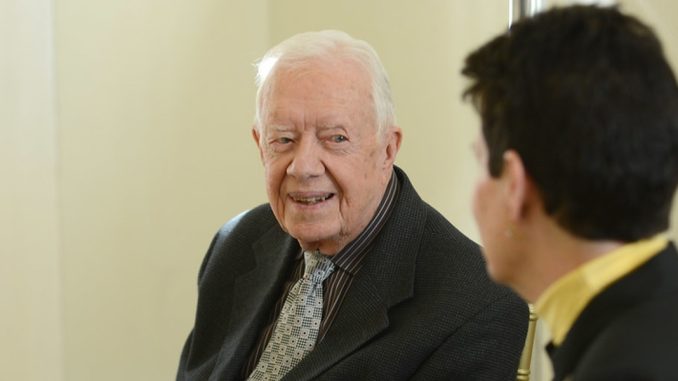 At 98 years old Jimmy Carter is the longest-lived former President in American history.
Meanwhile 80-year-old Joe Biden is the oldest individual to ever serve as President.
And Joe Biden slipped up and revealed some personal information that Jimmy Carter asked him to keep secret.
President Joe Biden is already showing signs of severely declining mental and physical faculties.
If Biden were to run for re-election, he would be asking voters to keep him in office until he is the age of 86.
On Monday, President Biden attended a Democrat National Committee fundraiser at a private residence in Rancho Santa Fe, California, delivering a brief speech to the roughly 40 attendees.
The Democrat President hit on his typical talking points about how Republicans are "violent insurrectionists" who pose a "threat to democracy."
"I think the general public has moved to a place where they are generally worried about our democracy," Biden said.
After claiming that the "American public is a lot more united on critical things than we give them credit for," he proceeded to tout his alleged success in handling the economy and creating jobs.
"I am a capitalist," Biden claimed, despite mountains of evidence to the contrary. "I'm not anti-corporation."
At the end of his speech, President Biden turned his attention to finding a cure for cancer.
But that's when he let the cat out of the bag on a secret former President Jimmy Carter asked him to keep to himself, and especially not share with the public.
"I spent time with Jimmy Carter and it's finally caught up with him, but they found a way to keep him going for a lot longer than they anticipated because they found a breakthrough," Biden said.
"He asked me to do his eulogy," Biden added, before realizing he had just revealed a secret.
"Excuse me – I shouldn't say that," Biden said.
Of course, it's not too surprising that Carter would ask the Democrat President to give his eulogy. 
After all, the economic collapse America is experiencing under President Biden is eerily similar to the economic collapse America experienced under Carter.
Not only that, but the two Presidents have been pals since the 1970s.
"It goes back to 1976 when then-Governor Carter was running for President and then-Senator Biden was the first Senator to have endorsed Jimmy at that time," Biden Press Secretary Karine Jean-Pierre said of the two.
Polls have continuously shown that President Biden's age and declining mental faculties are already a top concern for the majority of Americans – including most Democrats.
Biden slipping up and revealing a secret about the nation's oldest living former President does not harm Americans in any way.
But it does keep the spotlight on Joe Biden's age and declining mental faculties as he continues to promise a 2024 re-election announcement is imminent.
Stay tuned to Conservative Underground News for any updates to this ongoing story.