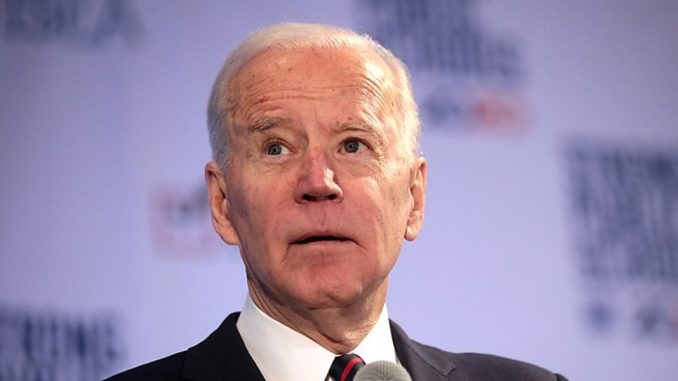 Joe Biden has spent his 50-year political career lying through his teeth.
He told his worst one yet during one of the country's most somber days.
And Joe Biden landed himself in hot water with this infuriating lie about 9/11.
President Joe Biden broke tradition to commemorate the 9/11 anniversary in Anchorage, Alaska.
He became the first sitting President not to visit one of the official 9/11 memorial sites on the anniversary of the tragedy.
Biden told one of the worst lies of his long political career during a speech on the 22nd anniversary of the attacks.
"I join you on this solemn day to renew our sacred vow: never forget," Biden said. "Never forget. We never forget. Each of us—each of those precious lives stolen too soon when evil attacked. Ground Zero in New York—I remember standing there the next day and looking at the building. And I felt like I was looking through the gates of hell, it looked so devastating because of the way—from where you could stand."
Biden claimed that he was in New York on September 12, 2001 but this a complete fabrication.
When reporters pressed the White House about Biden's lie, they didn't even bother to defend it.
Biden visited Ground Zero in New York with a delegation of Senators nine days after the attack on September 20, 2001.
"Senator Biden was 'in the delegation of Senators that traveled by train to New York to view the rubble left by the collapse of the World Trade Center Towers,'" the White House told the Daily Caller, citing an Associated Press article that showed Biden at Ground Zero on September 20.
Biden was once again caught red-handed lying to the American people, and on the anniversary of 9/11, no less.
He was actually in Washington, D.C. on September 12, 2001, as the Senate had convened to condemn the terrorist attacks.
Former President George W. Bush didn't make his first visit to the site of the Twin Towers until September 14, 2001.
This Biden regime also came under fire on the 9/11 anniversary for an announcement on social media celebrating Saudi Arabia's investment in his "signature initiative," the Partnership for Global Infrastructure (PGI).
Saudi Arabia is, of course, a known state sponsor of terrorism, and numerous reports have indicated that the country was more involved in the 9/11 attacks than any other, as 15 of the 19 hijackers were Saudis.
The State Department announced the same day that they were lifting a freeze on $6 billion worth of Iranian government assets as part of a prisoner exchange with the Islamic Republic, the single biggest state sponsor of terrorism in the world.
Joe Biden used the 9/11 anniversary to tell one of the most shameless lies of his career and announce two tone-deaf policy decisions.
Stay tuned to Conservative Underground News for any updates to this ongoing story.