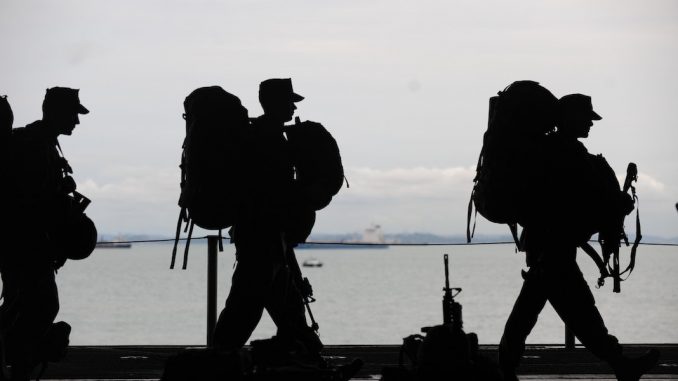 Joe Biden has long struggled with telling the truth.
There's not much he won't say if he thinks it'll benefit him politically.
But, Joe Biden just told one big lie about his son that had America's military heroes fuming.
President Joe Biden has a habit of saying anything he believes will help advance the radical left-wing agenda.
White House staff frequently have to walk back his remarks.
While on a trip overseas last week, Biden visited U.S. troops stationed at Marine Corps Air Station Iwakuni in Japan.
President Biden spoke with several U.S. servicemen currently stationed at the base, and during one conversation, Biden committed stolen valor by lying about the way his son, Beau, died.
"My son was a major in the US Army," Biden told the troops. "We lost him in Iraq."
Of course, there is one major problem with Biden's claim.
While it is true that Beau Biden served in Iraq, he died of brain cancer in 2015, not on the battlefield.
Unfortunately, President Biden's handlers kept the press corps too far away to record the audio.
"The traveling press corps, which has faced repeated access issues while covering the nation's oldest-ever president, was kept far enough away that the remarks were inaudible," The New York Post reported. "The White House press office did not put out an official transcript, almost allowing the error to escape public notice."
But this was not the first time Biden lied about his son's death.
During a trip to Colorado last year, he paid tribute to American soldiers in World War II, and also claimed his son died in Iraq.
"I say this as a father of a man who won the Bronze Star, the conspicuous service medal, and lost his life in Iraq," Biden claimed at the time.
After President Biden's disastrous withdrawal from Afghanistan in 2021, he also lied about Beau when meeting with the parents of the 13 soldiers who died at the Kabul airport.
It's clear that Biden is either a compulsive liar, or has grown senile with his advanced age.
Neither of the two are acceptable for the Commander-in-Chief.
And Joe Biden's lies could get him booted from office in 2024.
Stay tuned to Conservative Underground News for any updates to this ongoing story.