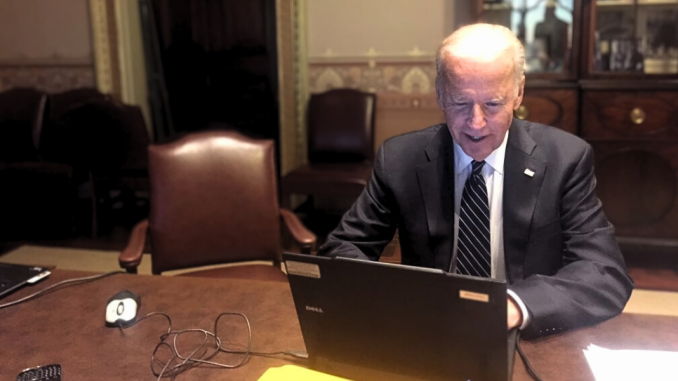 Democrats' allies in the media are trying their best to paint Joe Biden's Presidency in a positive light.
But there's one issue the President can't seem to shake.
And Joe Biden is smashing the panic button after he saw how 66% of voters responded to this jaw-dropping poll.
The 2024 battle for the White House is underway.
Florida Governor Ron DeSantis' entry into the Republican Primary kicked off the long-expected two-horse race with former President Donald Trump for the Republican nomination.
Although several other Republican candidates are in the race, most every political expert – and voter – agrees that the Party's nominee will be either DeSantis or Trump.
President Biden is also facing a Primary challenge from fellow Democrats Marianne Williamson and Robert F. Kennedy Jr.
The Democrat National Committee (DNC) is circling the wagons around Biden in order to prevent Williamson or Kennedy Jr. from having any real shot at winning the Primary.
Of course, the DNC can always chose to shut out all competition and guarantee President Biden is once again chosen as the Party's nominee – after all, they've essentially flirted with doing exactly that to ensure both Biden and former First Lady Hillary Clinton emerged as Democrats' nominee in the past two Presidential elections.
But voters are concerned about one issue that none of the President's allies can do anything about.
And that issue is his advanced age and declining mental faculties.
According to a new poll from Quinnipiac University, 65% of all registered voters believe Biden is too old to be an effective President for another four years.
That's roughly two out of every three voters in America.
On top of that, 90% of Republicans and 69% of Independents believe President Biden is too old to serve another term in office.
While 65% of voters believe Biden is too old to serve as President, only 36% of voters feel the same way about Trump.
Biden is already the oldest serving President in history.
Not only that, but he is suffering from a severely declining mental and physical capacity, as he displays for the world to see each time he steps into public or in front of a camera.
Despite these looming issues, President Biden is asking voters to keep him around until he is 86 years old.
Joe Biden has a lot of problems to overcome before next November.
And his age is at the top of the list.
Stay tuned to Conservative Underground News for any updates to this ongoing story.