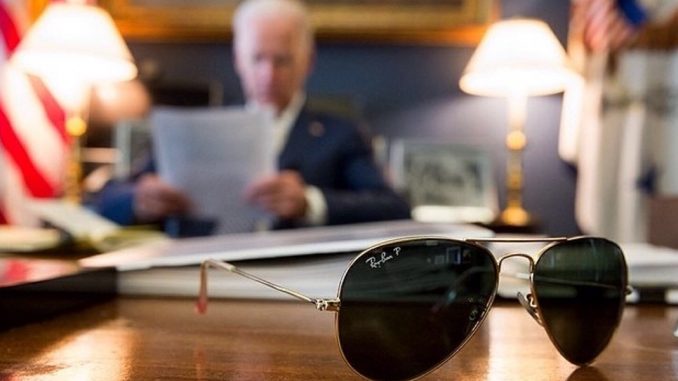 Joe Biden continues to claim he was not involved in his son Hunter's alleged foreign influence-peddling scheme during his time as Vice President.
But he also may have simply operated under multiple code names to avoid getting caught.
That's why Joe Biden is panicking after James Comer discovered the three pseudonyms Hunter used for him in Ukraine.
House Oversight Committee Chairman James Comer (R-KY) is leading the Congressional investigation into President Joe Biden and his son, Hunter's, alleged influence-peddling scheme.
Whistleblower testimony, FBI documents, and bank records have already pointed to a $10 million payment the Biden family received in order for the then-Vice President to influence the firing of a Ukrainian prosecutor investigating corruption at Burisma, the energy company that also just happened to give Hunter a cushy, high-paid board seat.
Documents uncovered by the Oversight Committee also show that President Biden's assistant included Hunter in an email regarding a phone call with former Ukrainian President Petro Poroshenko.
But Rep. Comer just found another bombshell in the three pseudonyms Biden apparently used to conceal his involvement in his son's corrupt influence-peddling scheme – "Robert Peters," "Robin Ware," and "JRB Ware."
And on Thursday, Comer sent a letter to the National Archives and Records Administration (NARA) to provide then-Vice President Biden's records regarding any duties that overlapped with his son's activities in Ukraine.
"The Committee seeks unrestricted special access under the PRA to Case Number 2023- 0022-F, entitled 'Email Messages To and/or From Vice President Biden and Hunter Biden related to Burisma and Ukraine,' which has been published on NARA's website," Comer wrote in the letter. "These records have been redacted for public release pursuant to the PRA and FOIA."
Comer cited a document the Committee uncovered, which indicates Biden took a phone call with President Poroshenko on May 27, 2016, but added that it "is concerning to the Committee, however, that this document was sent to 'Robert L. Peters' — a pseudonym the Committee has identified as then-Vice President Biden."
He also asked "why the then-Vice President's son, Hunter Biden — and only Hunter Biden — was copied on this email to then-Vice President Biden."
Rep. Comer gave the NARA a deadline of August 31 to produce all documents requested in the official letter.
In a statement, the Kentucky Congressman ripped President Biden for continuously claiming that he had no involvement in his son's apparently illicit businesses.
"Joe Biden has stated there was 'an absolute wall' between his family's foreign business schemes and his duties as Vice President, but evidence reveals that access was wide open for his family's influence peddling," Comer said in a statement. "We already have evidence of then-Vice President Biden speaking, dining, and having coffee with his son's foreign business associates," he continued, before adding that "we also know that Hunter Biden and his associates were informed of then-Vice President Biden's official government duties in countries where they had a financial interest."
"The National Archives must provide these unredacted records to further our investigation into the Biden family's corruption," he concluded.
Comer's discovery is a major development in the investigation into the Biden family's influence-peddling scheme.
Republicans already have evidence of a pay-to-play scheme.
But now that Comer knows the three fake names Joe Biden used to conceal his involvement in the criminal scheme, this could be the end of the line for the Biden Crime Family.
Stay tuned to Conservative Underground News for any updates to this ongoing story.