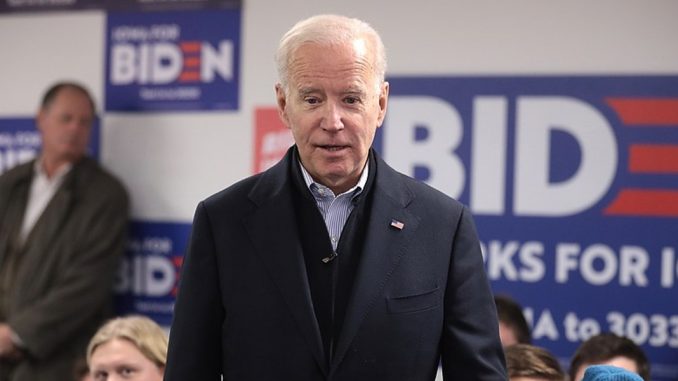 The media likes to claim that Joe Biden is a man of great empathy.
He dispelled that myth during one interview.
Now Joe Biden is in hot water after he gave this answer about the East Palestine train disaster.
The derailment of a train carrying toxic chemicals in East Palestine, Ohio made national headlines in February.
The disaster was a black eye for the Biden regime after the government response led by Biden Secretary of Transportation Pete Buttigieg proved to be a total failure.
Buttigieg waited ten days to publicly comment on the disaster, and spent the time he should have been helping the people of East Palestine to attend a woke extremist conference and whine about the number of white men working in the construction industry.
President Joe Biden was heavily criticized for not visiting the Ohio town in the aftermath of the disaster.
Former President Donald Trump visited East Palestine in late February to bring water bottles and other relief supplies which shamed Biden into promising to visit.
Biden said on March 2 that he would visit the town "at some point."
Six months later the President still hasn't made the effort to visit East Palestine.
Biden said that he didn't have time to visit the town during a press conference in Live Oak, Florida after he inspected damage from the aftermath of Hurricane Idalia.
A reporter pressed why hadn't visited East Palestine.
"I haven't had the occasion to go to East Palestine," Biden replied. "There's a lot going on here, and I just haven't been able to break."
Biden cited his upcoming travel schedule as an excuse to make the trip.
"I was thinking that I would go to East Palestine this week, but I've been reminded I've gotta go literally around the world," Biden added. "I'm going from Washington to India to Vietnam to – so it's gonna be awhile. But we're making sure that East Palestine has what they need materially in order to deal with the problem."
Biden claims that he doesn't have time to visit East Palestine, but his actions tell a different story.
The New York Post reported that he's spent 40% of his Presidency on personal overnight trips away from the White House, the most of any President in American history.
In August alone, Biden spent ten days on vacation one of his Delaware homes.
He also spent eight days on a family vacation at the mansion of Democrat megadonor Tom Steyer in Lake Tahoe, Nevada.
His flight path took him almost directly over East Palestine during an August trip to Milwaukee, Wisconsin.
Biden can make all the time in the world for vacation, but not for the suffering residents of the disaster-stricken Ohio town.
The media likes to portray him as caring and of great empathy, but he's turned his back on East Palestine.
Columbiana County, Ohio, where the town is located, handed Trump over 70% of its vote during the 2020 Presidential Election.
Joe Biden likes to claim he's looking out for the little guy but his infuriating snub of East Palestine, Ohio shows his true colors.