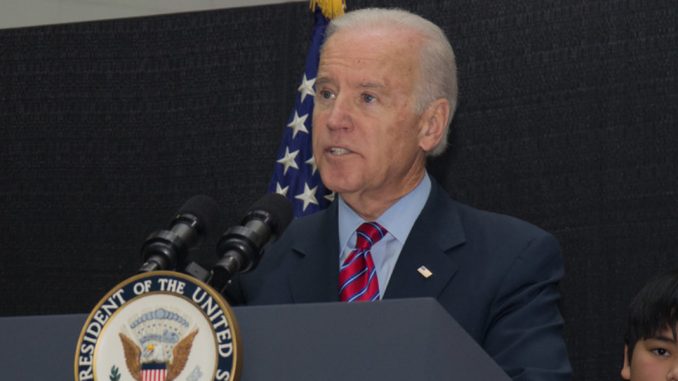 Joe Biden is hanging on by a thread while his scandals continue to pile up.
The smoking gun that could end his Presidency is out there.
And Joe Biden is ducking for cover after a bombshell dropped about this secret tape.
President Joe Biden is dealing with a seemingly never-ending stream of damning evidence that continues to trickle out about his family's influence-peddling operation.
House Republicans are searching for the smoking gun that directly implicates President Biden for trading policy decisions for money.
Newsmax's Greg Kelly shocked everyone by claiming that hard evidence of the President's corruption is about to be released.
"Biden has a big mouth and it got him into a lot of trouble, but he hasn't seen the half of it yet," Kelly predicted.
As multiple Biden associates have already testified under threat of perjury, then-Vice President Biden was on phone calls with Hunter and his foreign business associates.
"There is an audio tape, I am told, by people in the know, not necessarily in government, not necessarily out of government," Kelly said. "I can't say too much, but there is incontrovertible evidence of Joe Biden's corruption that is about to be made public."
Kelly said the tape would be released sometime between Labor Day and the end of October.
He added the White House is working to protect Biden because they know the clock is ticking on his Presidency.
"This tape will be made public," Kelly added. "I'm not sure by what entity at this point, but once it is heard, Joe Biden will have well, he'll have only two options. Number one, he will not be able to remain a candidate for the Presidency, for re-election. It will be over and done with. The only thing that he might be able to do, potentially, but probably not, is remain as President."
Kelly also floated the possibility that there could be more than one tape out there.
An FBI FD-1023 form created by a highly credible confidential human source alleged that then-Vice President Biden was involved in a criminal bribery scheme involving Ukrainian energy company Burisma, which just happened to have paid Hunter Biden handsomely to sit on its board despite the fact that he had no prior experience in the industry – or business in general, for that matter.
Joe and Hunter Biden were reportedly paid $5 million each to kill a corruption investigation into the company by Burisma's CEO, Mykola Zlochevsky.
Biden has publicly bragged about having the Ukrainian anti-corruption prosecutor investigating Burisma fired after he threatened to withhold loan guarantees to the country.
Senator Chuck Grassley (R-IA) said that the unredacted version of the FD-1023 form revealed that there are 17 known audio recordings of Zlochevsky speaking with Joe and Hunter Biden.
"The foreign national who allegedly bribed Joe and Hunter Biden allegedly has audio recordings of his conversations with them — 17 such recordings," Grassley said on the Senate floor. "These recordings were allegedly kept as a sort of insurance policy for the foreign national in case he got into a tight spot."
Grassley said that two of the recordings are from a one-on-one conversation with President Biden.
The tape that Kelly is referring to could be one of the alleged conversations that was kept as blackmail against the President.
Joe Biden could be waiting for the shoe to drop on the biggest scandal of his Presidency.