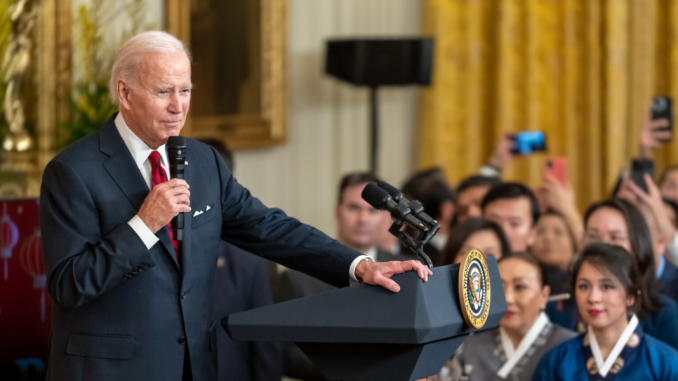 Joe Biden has been an embarrassment as Commander-in-Chief.
His record-low approval ratings reflect that.
And Joe Biden completely disgraced himself with one dishonest commencement speech that left even Democrats feeling sorry for him.
President Joe Biden claimed that he ran for President in order to preserve the "soul of America."
He launched his campaign with the lie that former President Donald Trump called white supremacists and neo-Nazis at the Charlottesville protests "very fine people."
The lie has been debunked multiple times, but President Biden, his fellow Democrats, and their media allies continue to regurgitate the talking point over and over again.
And Biden tried to strike that same chord recently while delivering a commencement speech at Howard University, a historically black college.
"In 2017, in Charlottesville, Virginia, crazed neo-Nazis with angry faces came out of the fields with — literally with torches, carrying Nazi banners from the woods and the fields chanting the same antisemitic bile heard across Europe in the '30s," Biden claimed. "Something that I never thought I would ever see in America. Accompanied by Klansmen and white supremacists, emerging from dark rooms and remote fields and the anonymity of the Internet, confronting decent Americans of all backgrounds standing in their way, into the bright light of day."
"And a young woman objecting to their presence was killed," he added. "And what did you hear? That famous quote. When asked about what happened, that famous quote. 'There are very fine people on both sides.'"
The President then pandered to the crowd, wildly exaggerating the threat white supremacists present to the United States.
"It's a battle that's never really over," Biden continued. "But on the best days, enough of us have the guts and the hearts to stand up for the best in us. To choose love over hate, unity over disunion, progress over retreat. To stand up against the poison of white supremacy, as I did in my Inaugural Address — to single it out as the most dangerous terrorist threat to our homeland is white supremacy. And I'm not saying this because I'm at a Black HBCU."
Perhaps the most disgusting aspect of Biden's speech was that he delivered it as a commencement speech.
President Biden chose to give a stump speech instead of a commencement for graduates embarking on their futures.
The entire spectacle was tacky, and at least a handful of graduates did not appreciate Biden's presence.
As Biden spoke at the Howard University commencement address, about a dozen students stood with signs in protest of his appearance. Those students understand the Democrats are just pandering to them as usual saying 'He's taking the vote for granted,'! pic.twitter.com/voBJw02bi8

— Odd Rod (@CmoonNights) May 14, 2023
If Biden is going to win re-election, he's going to have to do better than the same tired speech that has been torn to shreds.
Stay tuned to Conservative Underground News for any updates to this ongoing story.