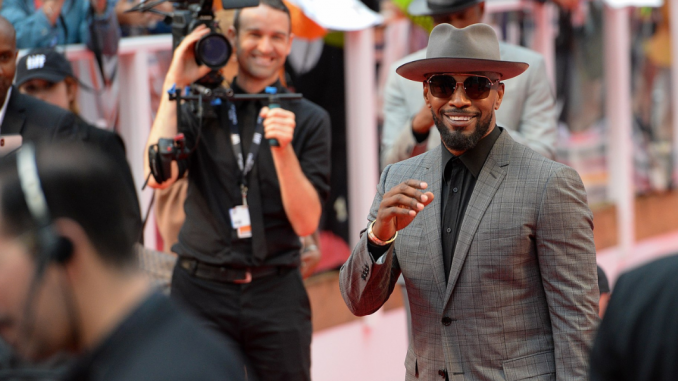 Hollywood star Jamie Foxx has been out of the public eye for weeks.
Rumors have been swirling about a serious health issue.
And fans around the world are holding their breaths after Mike Tyson gave one scary update about actor Jamie Foxx.
Jamie Foxx — famed actor, singer, comedian, and impersonator — was recently in the hospital for an undisclosed illness.
Foxx had to leave production on the action comedy film Back in Action, co-starring Cameron Diaz – Foxx' remaining scenes were reportedly finished with body doubles.
Amid speculation of the nature of his injury, boxing legend and Foxx' longtime friend, Mike Tyson, gave a harrowing update on the actor's condition.
Tyson revealed during an interview with entrepreneur Patrick Bet-David that Foxx is "not feeling well… They said a stroke. I have no idea what happened to him."
Prior to Tyson's disclosure, Foxx's daughter, Corinne, posted an update on social media.
"From the Foxx Family: We wanted to share that my father, Jamie Foxx, experienced a medical complication yesterday," Foxx' daughter wrote. "Luckily, due to quick action and great care, he is already on his way to recovery. We know how beloved he is and appreciate your prayers. The family asks for privacy during this time. Much love, The Foxx Family."
She also tried to allay concerns about rumors of a debilitating state.
"My Dad has been out of the hospital for weeks, recuperating," she wrote on Instagram. "In fact, he was playing pickleball yesterday! … Thanks for everyone's prayers and support!"
Foxx gave a brief update on his condition on May 3 when he posted on social media, "Appreciate all the love!!! .. Feeling blessed."
The Oscar-winning actor has long been known for his spot-on impersonations.
Unlike many other Hollywood celebrities, Foxx does not have utter disdain for Trump supporters.
"We're literally drinking out of the same bottle," he recounted during an interview. "Army, Air Force, Navy, Marine guys… were all there. We're having a great, good time. We ended up spending the whole day together. This is how America should be… Good, old-fashioned kicking back and having a good time."
Foxx won an Academy Award for Best Actor after his portrayal of Ray Charles in the biopic Ray.
Since then, he's starred in films such as Miami Vice, Spider-Man: No Way Home, Robin Hood, Baby Driver, Django Unchained, and Collateral alongside Tom Cruise.
Many others in the entertainment industry reached out to offer Foxx their well wishes.
"Not only one of the best entertainers, but a good person," fellow comedian Martin Lawrence wrote of Foxx. "My prayers go out for him every night and just wishing the best for him."
Hopefully, Jamie Foxx can make a full and speedy recovery.
Stay tuned to Conservative Underground News for any updates to this ongoing story.