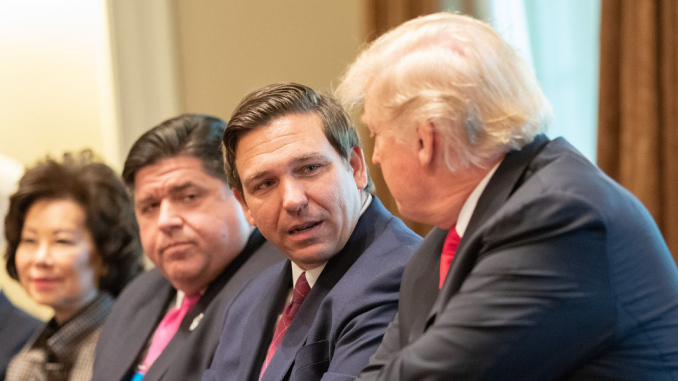 Donald Trump is ramping up his campaign for the 2024 election.
And he has identified the Governor of Florida as his main competition in the Republican Primary.
But Trump's latest left-wing attack on Ron DeSantis left Christians scratching their heads.
Former President Donald Trump's third Presidential campaign can be categorized the same as his past White House runs – unorthodox.
Generally, candidates play to their party's base of voters in the primary, then try to move somewhat to the middle in the general election.
However, Trump has oddly chosen to run to Governor DeSantis's left in the Republican primary, much the same as an establishment RINO or outright Democrat would.
Though DeSantis has not yet officially announced his candidacy, all signs point to the Florida Governor hopping in the race soon.
Trump tried to sell the argument that the Governor somehow mishandled COVID, and that Florida is somehow worse off because of DeSantis' policies – even though they were supposedly his policies just a few months ago – both nonsensical Democrat talking points.
Now, Trump is running to DeSantis' left on abortion.
Recently, Governor DeSantis signed a bill banning abortions in the state of Florida after six weeks, joining other states that have adopted a more pro-life position in light of the Supreme Court overturning Roe v. Wade.
But Trump called DeSantis' pro-life bill "too harsh."
Trump told the press that DeSantis "has to do what he has to do… If you look at what DeSantis did, a lot of people don't even know if he knew what he was doing. But he signed six weeks, and many people within the pro-life movement feel that that was too harsh."
That is a strange tack for Trump to take considering he has touted himself as a resolutely pro-life President.
He used to boast about just how pro-life he was – the most pro-life President ever, was his claim.
"For 50 years, they've been trying to get rid of Roe v. Wade," Trump previously claimed. "I was able to do it. Nobody else could have done that but me. And I was able to do it [by nominating] three excellent judges on the Justices of the Supreme Court."
"What it did more than anything else is it gave us a tremendous power of negotiation, which we didn't have, the pro-life movement, a tremendous power of negotiation," he added. "Now the pro-life movement has the power to negotiate a deal that's acceptable for them."
A lifelong New York Democrat, true conservatives had always been skeptical of Trump's position on abortion, but his record as President was solid.
However, Donald Trump's attacking Ron DeSantis as if he's too pro-life is a strange strategy that could certainly hurt him in the Primary with social conservatives.
Stay tuned to Conservative Underground News for any updates to this ongoing story.