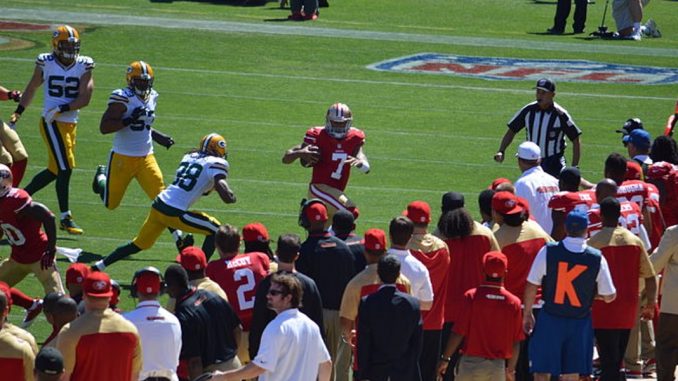 Anti-American former NFL quarterback Colin Kaepernick is still clinging to the spotlight.
He claims he still wants back into the NFL.
But Colin Kaepernick was completely blindsided after the shameless prima donna was called out by the last person he ever expected.
Former San Francisco 49ers quarterback Colin Kaepernick launched the anti-American national anthem protests when he chose to kneel in protest of what he claimed was "systemic racism."
Kaepernick maintained even after he ended his NFL career that he would continue to kneel until the issue of police brutality—but only that against black people—was ended.
In reality, Kaepernick's protest was part of a calculated move—mainly cooked up by his black supremacist girlfriend—to embrace woke extremism and become some sort of woke martyr to advance their extremist agenda.
Kaepernick's militancy also coincided with his downfall as a player – in 2016, his last season in the league, Kaepernick compiled a 1-10 record in 11 starts on the back of a quarterback rating that ranked just 23rd amongst the league's 32 starting quarterbacks.
It's also important to note that Kaepernick was still under contract with the 49ers beyond his final season in 2016, and chose to opt out of his contract in order to try to land a bigger and better contract in free agency.
But obviously, due to his declining play, question marks hanging over his health – he underwent three surgeries prior to the 2016 season — and the impending circus he was actively courting that would have served as a major distraction to whatever team signed him, none did.
A few teams have worked out Kaepernick over the years, but none have even attempted to sign him, which obviously only fueled conspiracy theories about him being "blacklisted" by the league and allowed the media to portray him as a martyr.
But Kaepernick was handsomely rewarded for his protest.
He signed lucrative deals with Disney, Netflix, Penguin Random House, and Nike.
Recently, Kaepernick was featured in a Nike commercial in which he was throwing passes to young NFL stars, supposedly fishing for an opportunity to get back into the league.
We Stay Sharp. @usnikefootball #TheOnes pic.twitter.com/Y49JEDiWF3

— Colin Kaepernick (@Kaepernick7) July 24, 2023
However, former NFL linebacker Terence Garvin, who played one season with the 49ers in 2018, called out Kaepernick's sham workout during an interview on The Arthur Moats Experience with Deke podcast.
"The senior prom was like six years ago," Garvin said. "It's over — it's over. You feel me? You still trying to be the prom queen! IT'S A WRAP!"
Garvin called out the idea of Kaepernick being anywhere close to an effective NFL quarterback after a six-year hiatus.
"He pops up this time of the year every year, like, we know you can throw the ball," Garvin continued.
Completing routine passes against grass is a bare minimum requirement for a starting high school quarterback, much less an NFL-caliber passer.
Kaepernick's problems were pocket presence, anticipation throws, and touch.
None of those issues will get fixed after six years away from competitive football.
"It passes you by," Garvin added. "The game is young, every year there is fresh talent. How do I take a dude that hasn't been out here playing in-game when I can go get a USFL or an XFL guy? I can get a dude who's ballin' in Canada. At least they have been using live bullets."
Garvin also pointed out that the players featured in the video were there as part of a promotion for Nike.
"Them dudes was mandated by Nike to be out there," Garvin pointed out.
Colin Kaepernick's NFL journey has long been over.
It seems like everybody knows that except him.
Stay tuned to Conservative Underground News for any updates to this ongoing story.