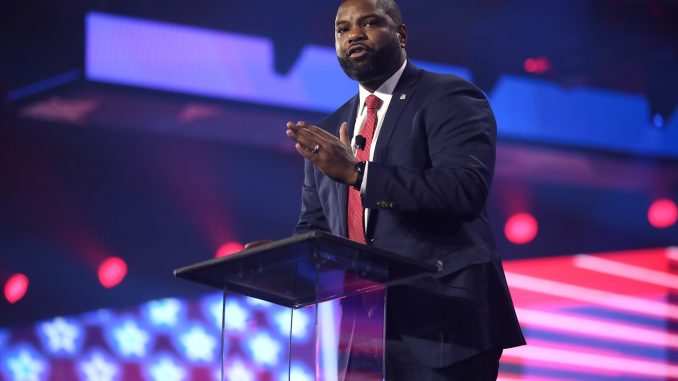 Ron DeSantis has become a perpetual target for Democrats and their media allies.
Democrats recognize him as a serious threat.
But, Byron Donalds just set the record straight on the NAACP's ridiculous attack on Ron DeSantis with one brutal takedown.
Democrats and their media allies clearly fear Florida Governor Ron DeSantis in a General Election against President Joe Biden.
That's why the press runs one hit piece after another against him.
And the NAACP recently hopped on the DeSantis smear campaign bandwagon by issuing an insane travel advisory to the state of Florida.
"Florida is openly hostile toward African Americans, people of color and LGBTQ+ individuals," the NAACP wrote in a statement. "Before traveling to Florida, please understand that the state of Florida devalues and marginalizes the contributions of, and the challenges faced by African Americans and other communities of color."
The media is desperate to paint Florida as an authoritarian hellscape, but those stubborn facts keep getting in the way.
Congressman Byron Donalds (R-FL) torched the NAACP for its bogus travel advisory.
"The only hostility I feel is this inflation hit in my pocketbook, I'll tell you that," Donalds, who happens to be a longtime Florida resident despite being a black man. "Because that inflation hitting everybody, that is hostile. You know, when the price of food is up, when the price of gas — which is still up — and the fact that fentanyl is coming into every community in our country because of Joe Biden, maybe the NAACP should be focused on that, because I know that's hostile."
Democrats don't even believe what they're saying because many continue to live and vacation in Florida without any issues.
Left-wing radical Aisha Mills commended the NAACP's travel advisory while also admitting that she had recently taken her family there.
MSNBC guest says Florida is about to be a "terrorist state" for black people and lesbians. These people are legit insane: pic.twitter.com/JKNwX8kCYh

— Clay Travis (@ClayTravis) May 22, 2023
Worse yet, multiple members of the NAACP, including the organization's Chairman, live in Florida, while many others vacation there.
THREAD: At least 5 members of the NAACP board have enjoyed vacationing in Florida under Governor Ron DeSantis, despite their recent warning that others avoid traveling to the state. https://t.co/MjoDM5uVCy

— Matt Wolking (@MattWolking) May 22, 2023
In reality, Democrats are attacking Governor DeSantis because not only would he be a formidable opponent in the 2024 General Election, but he has also been fiercely fighting left-wing radicals in the culture war.
DeSantis has taken on the neo-Marxist doctrine of Critical Race Theory, radical gender ideology, and "woke" corporations imposing their will on everyday Floridians.
Prior to Governor DeSantis' fight against wokeness, he was already arguably the best Governor in the country thanks to his Freedom First efforts during COVID.
This is not what Democrats and their media allies want.
They have become accustomed to do-nothing Republicans who will abstain for the crucial culture wars.
Stay tuned to Conservative Underground News for any updates to this ongoing story.