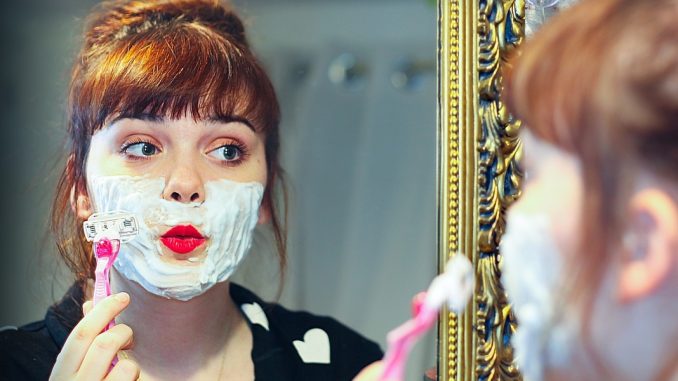 Working-class Americans are fed up with corporate America's efforts to force woke extremism down everyone's throats and as a result, they're fighting back like never before.
But despite all the evidence it's a bad idea another corporation just chose to follow in Bud Light's woke extremist footsteps.
And now they're already facing total ruin.
Bud Light completely destroyed its brand by entering into an endorsement deal with controversial transgender extremist Dylan Mulvaney, a biological adult male masquerading as a teenage girl on social media.
Since then, Bud Light's sales have cratered, dropping the brand from the most popular beer in America all the way down to just 14th.
Bud Light's Belgian parent company, Anheuser-Busch, is also facing major issues due to the brand's total collapse.
Now, another company could be following in Bud Light's footsteps.
Shaving company Harry's Razors just featured an ad with a biological female pretending to be a male.
Harry's Razors partnered with a "trans man" (female) to promote their razor set

100% of the profits from this set go to the Trevor Project, which promotes gender surgeries for minors pic.twitter.com/Sb6ZbBT0GA

— End Wokeness (@EndWokeness) August 6, 2023
One Twitter user pointed out the absurdity of a female taking hormone treatments in order to grow facial hair to shave.
Harry's Razors initially went all-in on woke extremism when the company publicly threw Daily Wire host Michael Knowles under the bus.
The company had advertised on The Michael Knowles Show, but after an anonymous Twitter account with hardly any followers complained that Knowles was guilty of "hate speech," Harry's Razors pulled advertising from the show.
That spurred Daily Wire CEO Jeremy Boreing to launch a rival company called Jeremy's Razors.
A year ago, Harry's Razors advertised on our shows. But then, they pulled their ads due to "values misalignment". Introducing Jeremy's Razors. Stop giving your money to woke corporations that hate you. Give it to the god-king: https://t.co/DLWEe8hraR pic.twitter.com/yt5gVG8pl0

— Daily Wire (@realDailyWire) March 22, 2022
Of course, it shouldn't be a huge surprise that Harry's Razors is a woke extremist company, as the company's CEO previously referred to men and women as "non-birthing parents" and "birthing parents," respectively.
Here is the CEO of Harry's Razors

He calls dads "non-birthing parents" and moms "birthing parents"

He says the company is "socially-minded" pic.twitter.com/Lrxy3vpciX

— End Wokeness (@EndWokeness) August 6, 2023
Harry's and many other companies have pandered to the woke left-wing outrage mob, particularly when it comes to LGBTQQIP2SAA issues.
Huge asset management firms, like BlackRock, are nudging companies toward investing in those initiatives with the threat of lower environmental, social, and corporate governance (ESG) scores.
Companies with lower ESG scores are less likely to receive any investment from BlackRock and similar large firms.
ESG is cultural imperialism at its worst, and in the case of Bud Light, it backfired spectacularly.
"Bud Light has become the poster boy for brand mismanagement," Shark Tank star Kevin O'Leary explained. "[This issue] highlights the power of social media. This issue went viral in 48 hours and most often when an issue goes viral like that, it burns out in another 48 hours, but that's not what happened here. The story and narrative changed to sales and so people that did not like the message, regardless of where you stand on these social issues or gender narrative or whatever, they took it out by basically boycotting the product immediately and switching preference to other brands that did not make them get involved in this issue."
Corporations should think twice about going all-in on woke extremism with their advertising.
Stay tuned to Conservative Underground News for any updates to this ongoing story.