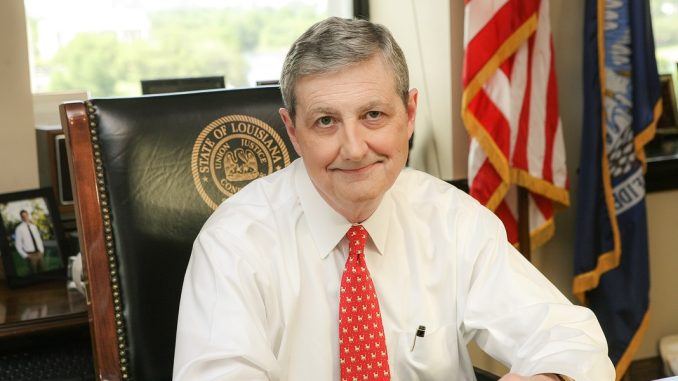 Joe Biden's feckless and weak leadership is leaving the country in grave danger.
He's giving the nation's enemies the greenlight to walk all over him.
And a leading Republican gave Joe Biden a devastating reality check over this huge failure.
President Joe Biden's disastrous withdrawal from Afghanistan sent a signal to the rest of the world that weak American leadership was back.
The Communist Chinese Party (CCP) are stepping up their aggression and walking all over President Biden.
The Chinese spy balloon that brazenly violated American air space was the boldest move yet by the CCP to test the President.
Despite the obvious provocation by the CCP, the Biden regime claimed that their policy towards the hostile foreign power won't change as a result of the incident.
Sen. John Kennedy (R-LA) is one of the most colorful members of the Senate.
During an appearance on Fox News Radio, the Louisiana Senator gave Biden a wake-up call over the growing threat from Communist China.
He said the Biden regime needs to face the reality that "hugs and hot cocoa" won't work when dealing with the Communist nation.
Senator Kennedy explained that for 20 years now, every American President has claimed that Communist China would "eventually democratize and adopt Western values."
"Well, they didn't and it was only under President Trump – and we must give him credit for this – [he] said enough," Kennedy explained. "I don't want a hot war with China. I don't want a cold war with China, but you people need to become responsible members of a stable world order and that's all I want from them."
Former President Donald Trump took the toughest stance against Communist China of any President this century using tariffs and other measures to try to keep them in line. 
The ruling class elites' previous kid glove treatment for the CCP is back under President Biden.
"But it doesn't help any of us to deny the fact that President Xi would steal the hair off your heads, OK?" Kennedy said. "He is interested in one thing and one thing only: his power."
The Chinese are trying to expand their power by stepping up their aggression against Taiwan and other neighboring nations.
"People like Secretary Kerry, they think they can solve all of this with hugs and hot cocoa," Kennedy concluded. "I wish it were so. It can't be done."
Biden Presidential Climate Envoy John Kerry praised the CCP for their efforts in fighting climate change by adopting so-called "green energy."
The failed 2004 Presidential candidate wants to partner with Communist China on combating climate change.
Kerry's accommodating stance towards China is emblematic of the Biden regime's soft-on-China policy.
Joe Biden's weak leadership is emboldening Communist China to take even more aggressive actions in their pursuit of power. 
Stay tuned to Conservative Underground News for any updates to this ongoing story.